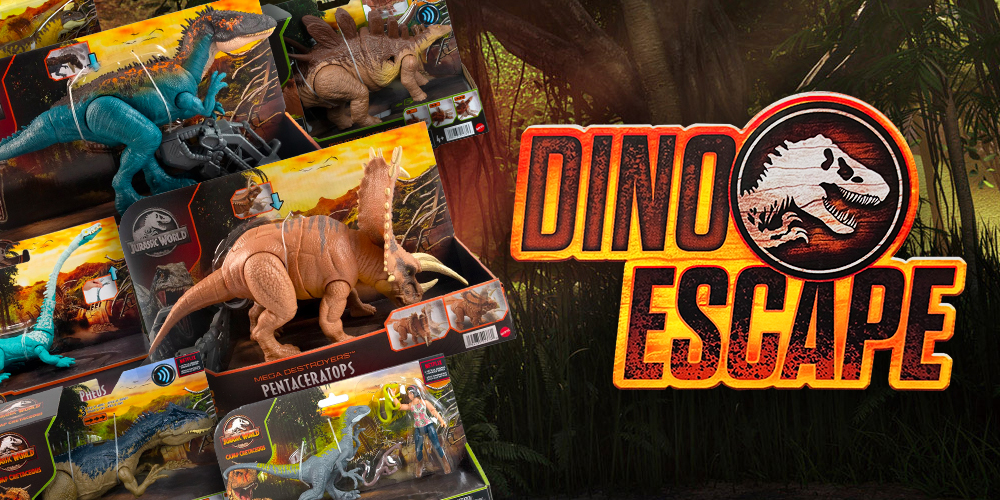 Updated 12.6.21: Target links added for new Roar Attack and Mega Destroyer figures.
Collect Jurassic is back in 2021 with our essential Mattel Jurassic World checklist, complete with HD image galleries of all the latest and upcoming toys for Camp Creteaceous, Legacy Collection and more. As always, the year's checklist also includes live shopping links for most major US retailers (depending on the release). All of 2021's hottest Jurassic items, from the new Extreme Chompin' Spinosaurus to Dennis Nedry's Getaway playset, are included below for your toy hunting pleasure. Keep in mind that some of the more popular items will be doing in and out of stock, so be sure to bookmark this page and check back often. We'll also be updating the checklist as more images and links as they appear. Happy hunting!
Can't find a previous release? Check our 2020 Toy Checklists here and here!
Jump To:  Dino Escape Legacy Collection Extreme Damage Primal Attack
Dino Escape
 Wild Pack


NEW Preorders:
Shringasaurus – Target
Rhamphorhynchus – Target
Velociraptor – Target
Mononykus – Target
Released:
Zuniceratops – Target | Amazon*
Dimorphodon – Amazon*
Herrerasaurus – Amazon*
Dracorex –Amazon*
Alioramus – Amazon*
Baby Brachiosaurus – Target
Wave 1 (Includes 6 figures total) – Entertainment Earth
Wave 2 (Includes 6 figures total) – Entertainment Earth
Fierce Force


NEW Preorders:
Tanystrpheus – Target | Amazon*
Styracosaurus – Target | Amazon*
Monolophosaurus – Target | Amazon*
Masiakasaurus (V2) – Target | Amazon*
Wave 3 (Includes 6 figures total) – Entertainment Earth
Released:
Velociraptor – Entertainment Earth | Target | Walmart* | Amazon*
Gallimimus – Entertainment Earth | Target | Walmart* | Amazon*
Masiakasaurus  – Entertainment Earth | Target | Walmart* | Amazon*
Sauropelta – Entertainment Earth | Target | Walmart* | Amazon*
Dilophosaurus – Target | Amazon*
Chialingosaurus – Target | Amazon*
Wave 1 (Includes 6 figures total) – Entertainment Earth
Wave 2 (Includes 6 figures total) – Entertainment Earth
Roar Attack

NEW Preorders:
Kentrosaurus – Target
Allosaurus (V2) – Amazon*
Ceratosaurus (V2) – Target
Wave 3 (Includes 2 figures total) – Entertainment Earth
Released:
Metriacanthosaurus – Walmart* (Exclusive)
Ceratosaurus – Entertainment Earth | Target | Walmart* | Amazon*
Ankylosaurus 'Bumpy' – Entertainment Earth | Target | Walmart* | Amazon*
Baryonyx 'Limbo' – Entertainment Earth | Target | Walmart | Amazon*
Ouranosaurus – Amazon*
Baryonyx 'Chaos' – Amazon*
Allosaurus – Amazon*
Wave 1 (Includes 2 figures total) – Entertainment Earth
Wave 2 (Includes 2 figures total) – Entertainment Earth
Mega Destroyer


NEW Preorders:
Pentaceratops – Target
Carcharodontosaurus (V2) – Target
Wave 2 (Includes 2 figures total) – Entertainment Earth
Released:
Carcharodontosaurus – Entertainment Earth | Target |  Walmart* |  Amazon*
Stegosaurus – Entertainment Earth | Target | Walmart* | Amazon*
Wave 1 (Includes 2 figures total) – Entertainment Earth
Jurassic Campers


NEW Preorders:
Brooklyn & Monolophosaurus – Entertainment Earth | Amazon*
Sammy & Velociraptor – Entertainment Earth | Amazon*
Darius & Baby Brachiosaurus – Entertainment Earth | Amazon*
Released:
Yazmina & Velociraptor 'Blue' – Entertainment Earth | Target |  Walmart* | Amazon*
Darius & Gallimimus – Entertainment Earth | Target |  Walmart* | Amazon*
Kenji & Monolophosaurus – Entertainment Earth | Amazon*
Ben & Ankylosaurus 'Bumpy' –Entertainment Earth | Amazon*
Darius, Velociraptor Blue & Ankylosaurus 'Bumpy' – Amazon (Exclusive)
Wave 1 (Includes 2 figures total) – Entertainment Earth
Raptor Squad 4-Pack

Raptor Squad – Target (Exclusive)
Slash 'N Battle Scorpios Rex

Scorpios Rex – Entertainment Earth | Target | Walmart* | Amazon*
Scorpios Rex Danger Pack

Scorpios Rex Danger Pack – Target (Exclusive)
Ocean Protector Mosasaurus

Mosasaurus – Entertainment Earth | Target | Walmart* | Amazon*

Stomp N' Escape Tyrannosaurus rex
Tyrannosaurus Rex – Entertainment Earth | Target | Walmart* | Amazon*
Super Colossal Carnotaurus 'Toro'

Carnotaurus 'Toro' – Entertainment Earth | Target | Walmart* |  Amazon*
Legacy Collection
Dennis Nedry Getaway Pack

Dennis Nedry Getaway Pack  – Target (Exclusive)
Tyrannosaurus Rex Escape Pack

Tyrannosaurus rex Escape Pack – Target (Exclusive)
Apatosaurus

Apatosaurus  – Target (Exclusive)
Extreme Damage
Tyrannosaurus rex

Tyrannosaurus rex – Walmart* (Exclusive)
Indominus rex

Indominus rex – Walmart* (Exclusive)
Primal Attack
Attack Pack

Troodon – Target | Walmart* | Amazon*
Gallimimus – Target | Walmart* | Amazon*
Dimorphodon – Target | Walmart* | Amazon*
Coelurus – Target | Walmart* | Amazon*
Proceratosaurus – Target | Walmart* | Amazon*
Savage Strike

Plesiosaurus – Entertainment Earth | Target | Walmart* | Amazon*
Monolophosaurus – Entertainment Earth | Target | Walmart* | Amazon*
Stygimoloch – Entertainment Earth |Target | Walmart* | Amazon*
Velociraptor – Target | Walmart* | Amazon*
Velociraptor (Red) – Target | Walmart* | Amazon*

Sound Strike