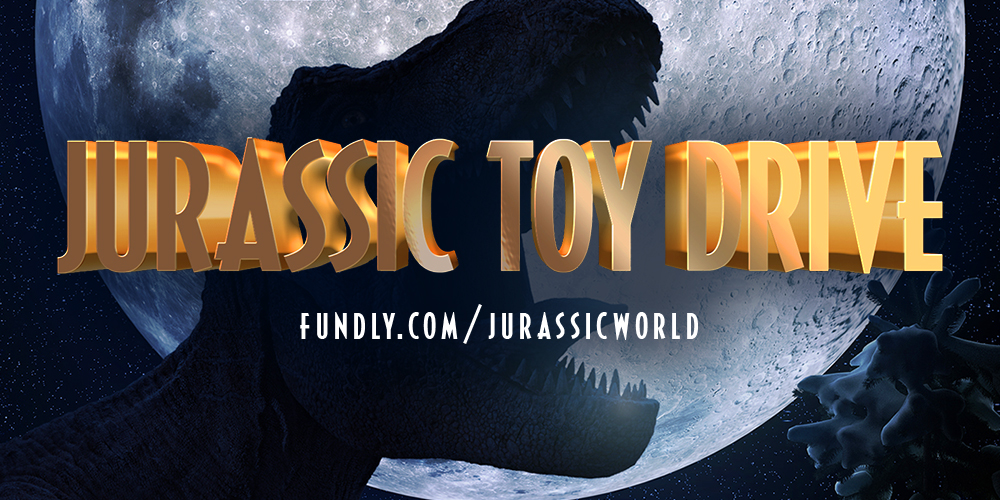 The Jurassic Toy Drive is back for 2021 courtesy of Neemz (AKA Jurassic Your World) and we are delighted to be partnering up with Neemz to highlight this fantastic opportunity to give back. We've got a highly desirable incentive for those of you looking to get involved in this year's Toy Drive – so read on to find out more about this year's Toy Drive, and how you can get a shot at winning a cool collectable piece with your donation.
---
What is the Jurassic Toy Drive? 
The Jurassic Toy Drive is an opportunity for the Jurassic community to come together and raise money which can then be gifted to disadvantaged children across the year. A group of fans across the globe have come together to receive a portion of the donations raised so that they can go out and buy dinosaur toys which can then be donated to charities local to them. All of these donations will be documented on Social Media to keep everything above-board so you can see exactly where your money has gone, and how it will make a difference.
Beneficiaries for 2021 are set to include The Orange County Rescue Mission, Toys For Tots and many, many more.
---
How can I get involved?
Getting involved is simple – you just need to visit the Fundly page, which is https://fundly.com/jurassicworld, to make a donation to the total. Together, we've already raised over $1,700 to support young people across the globe – and with your support, we can use this last week of donations to raise that total even further, ensuring that more kids have access to Jurassic Toys in time for the Holidays.
If you can't make a donation (it's totally cool – we're in tricky times, and they are difficult for all of us!) then sharing and amplifying the page to get more people involved can make a huge difference. Share on your favorite Social Media platform and help to spread a bit of Jurassic love this Holiday season!
---
What's the incentive to get involved? 
This year, we are delighted to share that we are hosting a random raffle to win a brand-new, in-box copy of the 'Final Scene Ray Arnold' set from Comic Con @ Home in 2021. It's a favorite of the team here at Collect Jurassic and is absolutely an item you must add to your collection.
To be eligible to win this set, all you need to do is make a donation of any total to this year's toy drive, and then send proof of your donation (email or receipt screenshot) to @collectjurassic via direct message. We'll keep a record of everyone who donates and will draw a lucky winner for this year's SDCC set!
View this post on Instagram
Please get involved, share this message with your community, and help to make a difference this Holiday season. Together we can have a positive difference on the lives of disadvantaged young people and can use Jurassic to be a real force for positive change. We're all in this together – so let's show how great this community can be.
Head to https://fundly.com/jurassicworld for all the details.