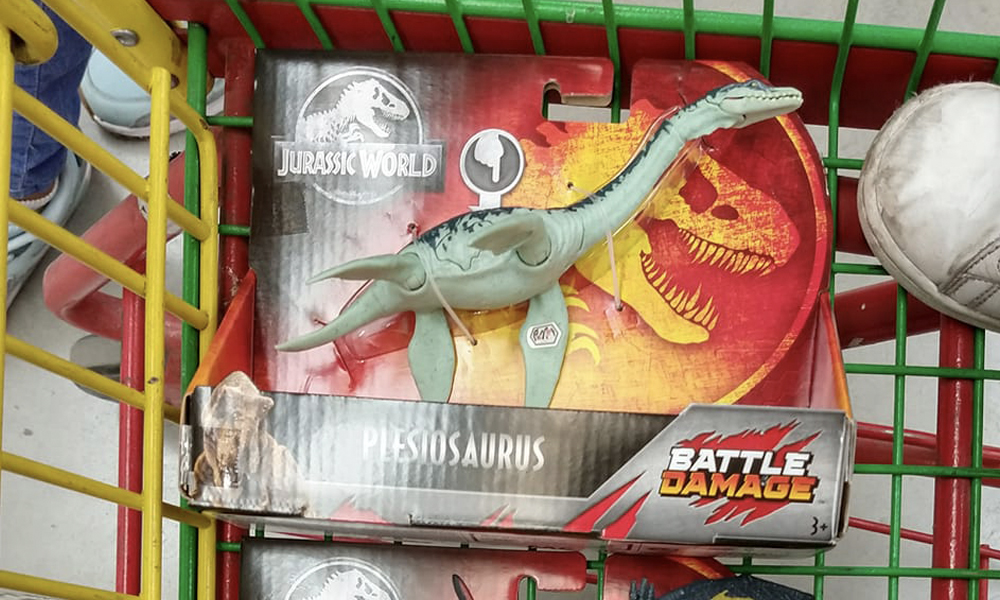 The past week proved to be quite busy with fresh Jurassic toy sightings and releases, including our first in-package shots of the Legacy Collection story packs from Mattel as well as the first verified find of the Battle Damage Plesiosaurus. While we do our best  to cover the minute-by-minute news on our social media platforms (Instagram, Facebook, Twitter & YouTube), we definitely want to make sure we're updating collectjurassic.com with all of the exciting developments as well! We've put together a quick recap below for your toy collecting pleasure:
Battle Damage Plesiosaurus has been spotted in Mexico City, Mexico
Collector Irving H. found some of the new Battle Damage figures in Mexico and immediately snatched them up, including the anticipated Plesiosaurus. Really hope this one swims up to the US soon!
Legacy Collection Story Packs found in Santiago, Chile
We were surprised to see these Legacy Collection figures show up in a Mattel store in Chile of all places, and to be completely honest it's a little concerning in terms of these figures getting a general release. The Target exclusive Legacy Collection has seen plenty of cancellations and distribution issues at this point, and while the Brachiosaurus is still on it's way, we're still not 100% these story packs are coming to US stores. Updates to come.
Amazon stocking elusive Dino Rivals releases
Great news! This week Amazon began adding listings for some of the harder to come by Dino Rivals toys. The Dual Attack Suchomimus, Stegosaurus and ATV Story Pack all have shown up on the site at their suggested retail prices. While they continue to go in and out of stock, you can have a go at ordering them yourself at the links below. To make sure you are getting the lowest price, make sure to click "NEW FROM $–" to see the cheapest buying options.
Jurassic World Dual Attack Suchomimus

Jurassic World Dual Attack Stegosaurus

Jurassic World Deluxe Story Pack Off-Road Tracker ATV
German & Mexico Amazon sites stocking Legacy Collection Jeep Wrangler
At this point, it's all but certain the Legacy Collection Jeep Wrangler that was spotted in Dino Rivals packaging is getting a wider, non-exclusive release. Listings for the toy were added to Amazon in Germany and Mexico over the last few days, providing the first official images of the new packaging. Take a peek at either of the links below:
Matchbox Jurassic World Vehicle Jeep Wrangler (Germany)
Matchbox Jurassic World Vehicle Jeep Wrangler (Mexico)
New Savage Strike figures hitting US Wal-Marts
Lastly, this is something we missed adding to the site over the past couple weeks: new Savage Strike figures Tapejara and Dimetrodon have been showing up at Wal-Mart stores throughout the US, with Walmart.com's listing of Tapejara going in and out of stock as well. Keep checking the link below: