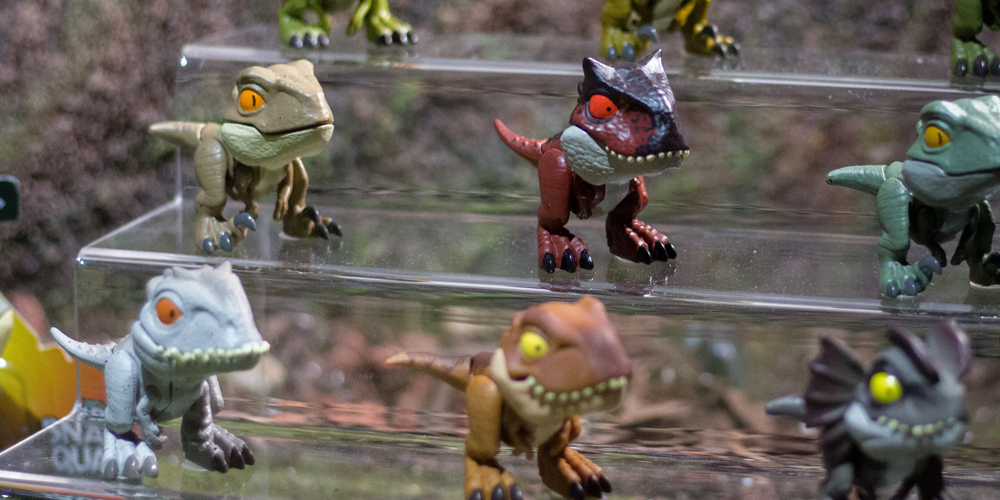 With the 2019 New York Toy Fair behind us, Collect Jurassic is kicking off a week of in-depth content from the show including detailed recaps, high definition galleries and video tours. We'll start off in Mattel's Jurassic World booth where the tiny but mighty Jurassic World Snap Squad figures chomped their way into our hearts.
A dozen of these little dinosaurs were on display, with franchise heroes like Rexy, Blue, Indoraptor and Indominis Rex rounded out by other favorites like Dilophosaurus and Carnotaurus. A few of the Snap Squad species also came in multiple paint variants, though it was mentioned at the Toy Fair that not all of the decos were final.
The Jurassic dinosaur aesthetic balances well against the exaggerated,  cute features that are signature for this assortment. An over-sized head with large, animated eyes also houses the each Snap Squad dinosaur's "snap on" biting action—which is surprisingly strong! The Mattel presenter often had a figure latched on to his suit jacket, which he would remove and demonstrate the figures' adorable flailing limbs as it hung off his fingers. Definitely a great toy when seen in action, and one we can totally see riding along on plenty of back packs this year.
Speaking of this year, Snap Squad's first wave is due to hit in the Fall at a $4.99 price pint. Each figure is packaged on a cardback and thus are not blind-bag items, so collector's shouldn't have a hard time tracking down a complete set. Its also worth nothing that neither Dilophosaurus nor the Carnotaurus appear to be part of the initial wave, but hopefully they aren't fay behind.
While Snap Squad spent less time in Mattel's Toy Fair spotlight, there's no doubt that they will make an excellent addition to the many Jurassic toys hitting shelves during this "off" film release year for Jurassic. We'd love for these little guys continue to come out with new species in future waves, as their adorable design and tiny size makes the Snap Squad dinosaurs very collectible for collectors for all ages.
Keep scrolling below to see the official Mattel fact sheet for the Snap Squad assortment, as well as the link to our full HD gallery of their debut at the New York Toy Fair. We want to thank Jurassic Contrast, whom we enlisted as our official photographer for the show for helping us out with our Toy Fair galleries.
Snap Squad Assortment (GGN26)
SRP: $4.99 | 4Y+ | Available Fall 2019
Kids and Jurassic World fans will love collecting the Snap Squad Assortment featuring fan favorite dinosaurs.
These small-scale collectibles feature the fierce Jurassic World dinosaurs, but with a stylistic design and mouths that open to "snap on" to back packs, lunch bags and more.
Choose from Tyrannosaurus Rex, Velociraptor Blue, Indominus Rex and Indoraptor