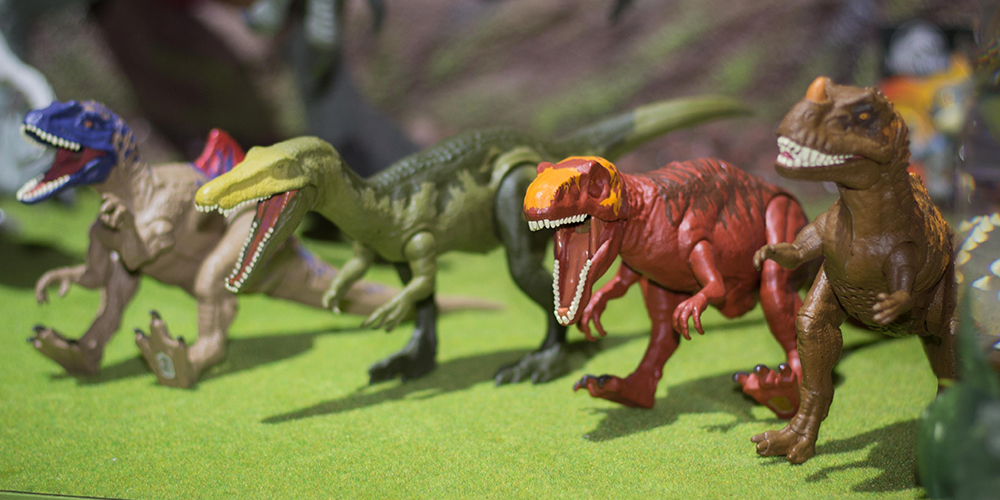 Next up during our week of recaps and galleries from the 2019 New York Toy Fair are the "new" Roarivore and Dual Attack figures from Mattel. These redecod versions of Concavenator, Baryonyx, Metricanthosaurs, Ceratosaurus, Ankylosaurus and Triceratops feature bright, vivid color schemes we've come to expect from Mattel's 2019 Dino Rivals toyline. While all-new dinosaur molds are always an exciting proposition, there is a lot to love with these colorfully re-imagined Roarivore and Dual Attack releases.
As most collector's know, the Dual Attack figures that have already released this year feature two separately activated action features, but lack the electronic roar of the Roarivore figures from 2018. Mattel is bringing the electronic feature-set back with repainted Barynoyx, Metricanthosaurs, Ceratosaurus and Ankylosaurus figures this year, alongside new versions of Dual Attack Concavenator and Triceratops. A Roarivore Allosaurus is also on the way, though it was not present at the Toy Fair. Eagle-eyed collectors predicted this particular figure's eventual release after it was partially pictured on the back of the Mega Dual Attack Stegosaur's packaging.
The figures themselves feel and function identical to their previous releases, its the eye-catching paint schemes that were truly the main event during Mattel's reveal. Concavenator has the loudest coloration of all with it's vibrant blue highlights, while Baryonyx and Ankylosaurus feature a more subdued green base color with less contrasting pops of color. Metricanthosaurs is also a contender for wildest aesthetic with its bright orange head, rounded out by a very brown Ceratosaurus. If you think this group looks colorful on screen, just wait until you see them in person!
Having these noticeably different takes on already released dinosaur species should appeal to kids and collectors alike, especially with figures like the Ankylosaurus—whose previous coloration was relatively muted.  Adding another Baryonyx to the family with a similarly patterned snout is also a great, cohesive detail on that particular repaint. The real star of this lineup though has to be the new Triceratops, with a redeco that looks very much inspired by the notorious cancelled Triceratops from Hasbro's The Lost World Jurassic Park. Another clever homage to the classic Jurassic line by Mattel, nicely done!
We can't talk about this particular reveal from Mattel without addressing the elephant in the room: why all the repaints? Or course, toy companies have always had plenty of reasons to repurpose existing figures in this way. But for Mattel in 2019, this was a strategic decision based on the immense success of the Roarivores assortment in 2018. These figures were reportedly one of the toyline's best performing assortments, and were integral in Mattel winning the Action Figure of the Year 2019 TOTY Award. So, it goes without saying that getting Roarivores back on shelves in whatever fashion they could was a shrewd business move on Mattel's part. We've been assured that all-new Roarivores are on their way in 2019 as well, with these redecos aimed at bridging the gap during their Spring release window.
Listed below is the official Mattel fact sheet for both upcoming Dual Attack and Roarivore assortments, plus a link to our full HD gallery of the figures' New York Toy Fair showcase. We again have to thank Jurassic Contrast, who added to all of our current and upcoming Toy Fair galleries with his own wonderful photography.
Jurassic World Dual Attack Assortment (GDT38)
SRP: $14.99 | 4Y+ | Available Spring 2019
These medium sized dinosaurs have dual action buttons for fierce battle action iconic to each respective species.
Push the back button for tail strikes, press the front button for head strikes, and press both buttons at the same time for dual tail and head striking action.
Dinos have film inspired sculpting, authentic color and realistic texture.
Choose from Concavenator, Parasaurolophus, Triceratops and more. Each figure comes with a Dino Rivals™ collector card detailing the dinosaur's key battle stats and attributes. Download the Jurassic World Facts app (Android & iOS) for more fun.
Jurassic World Roarivores (FMM23)
SRP: $14.99 | 4Y+ | Available Spring 2019
With push button sound activation and signature attack moves, kids can play out film action scenes with moves like chomping, biting and head butting.
Figures include articulated arms and legs, realistic sculpting and authentic design
Choose from Ankylosaurus, Baryonyx, Allosaurus and Ceratosaurus.