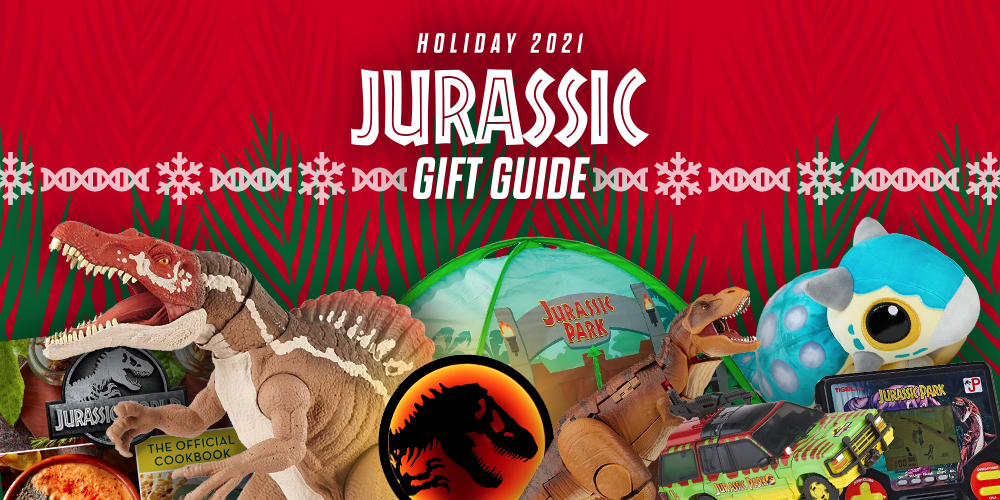 It's that time of year again! The holiday shopping season is flocking this way, and Collect Jurassic is back with a Jeep-full of gift ideas for every Jurassic fan on your list (including yourself). This year's Jurassic Gift Guide features our top 20 Jurassic Park and Jurassic World gift recommendations from 2021 — divided across carefully curated categories which feature collectibles, books, toys, decor and more! Fans of any age, from hatchling to Hammond, will find something right up their alley in our easily shoppable guide.
The Holiday 2021 Jurassic Gift Guide includes direct links to trusted retails like Amazon, Target, Walmart and others, so you can shop with confidence and convenience while you track down the perfect Jurassic gift. Select a category below to begin your hunt, just remember stay out of the long grass!
Hammond's Library Just Hatched. Toy Essentials Jungle Arcade Full Nublar
---


Jurassic bookworms, we've got you covered. Step into Hammond's Library, where you'll find beautifully bound reading material like The Folio Society's The Lost World: Illustrated Edition. Highlights also include Jurassic Park: The Ultimate Visual History — the definitive behind-the-scenes book covering the entire Jurassic franchise before Jurassic World.
Shop Now at the links below:


Start 'em young! In our Just Hatched gift category, we've gathered the most aw-dorable finds to inspire a life-long love of Jurassic for the little tykes in your life. The very huggable plush Bumpy toy (break-out star of Netflix's animated Camp Cretaceous series) even roars when you squeeze it! Can Jurassic get any cuter? Yes, it can, with the baby-friendly Tommies Jurassic World Spin & Hatch Dino Eggs.
Shop Now at the links below:


If there is one thing we know about here at Collect Jurassic, it's toys. While it wasn't easy picking just a handful that qualify as Toy Essentials for this year's Jurassic Gift Guide, the choice was clear when it comes to must-have figures like the Extreme Chompin' Spinosaurus. And there's more than meets the eye with some of our other selections, specifically the ultra-cool Transformers Jurassic Park mash-up. For a full list of this year's Jurassic toy offerings, including shoppable links, head to our 2021 checklist.
Shop Now at the links below:


Gamers, you're in luck. In the Jungle Arcade, there are more options than ever when it comes to Jurassic-themed gaming this year — in both the video and board variety. Jurassic Park has officially gotten the Monopoly treatment, complete with miniature pewter game pieces of the film's iconic cast. When it comes more recent franchise entries, the sequel to Jurassic World Evolution provides nearly limitless options to build the digital dinosaur park of your dreams.
Shop Now at the links below:


For the most dedicated fan among us, here's your chance to prove it by going "Full Nublar". For the ultimate Jurassic gift, look no further than these extremely deep cuts including a "When Dinosaurs Ruled the Earth" Knitted Scarf and a 16-Piece Dinnerware Set that doubles as a screen-accurate replica of the dishes shown in Jurassic Park's lunch scene. Bring on the Chilean Sea Bass!
Shop Now at the links below:
---
That's a wrap (get it?) on our Holiday 2021 Jurassic Gift Guide! What an exciting time to be a Jurassic fan — so many excellent gift ideas to share, and more on the way when Jurassic World Dominion hits theaters in Summer 2022. We'll see you again next year, happy holidays from Collect Jurassic!