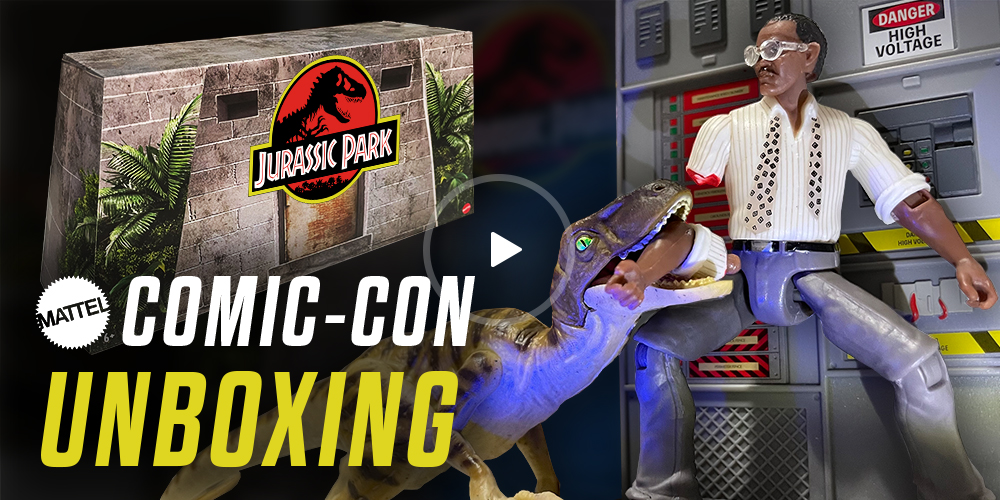 Hold onto your butts! San Diego Comic Con at Home returns for 2021, and with it comes a brand-new exclusive Jurassic Park set from the team at Mattel Creations. Much like last year's set of Dennis Nedry in the iconic Barbasol Can, this set aims to depict a sequence from the first film by giving us Ray Arnold's demise in the Emergency Bunker in action figure format. Read on for the official reveal details, then take an exclusive look at this exiting set in our in-hand unboxing video.
Jurassic Park Final Scene Ray Arnold  (SRP: $25)
Fans would give their right arm for this special collector pack. It imagines the memorable moment viewers never got to see in the Jurassic Park movie — as Chief Engineer John Raymond 'Ray' Arnold heroically heads to the maintenance shed to reboot the power. 
Capturing this tragic moment that lives only in the imagination, the pack includes a highly posable 3.75-inch (9.5-cm) action figure of Arnold with removable arm within the maintenance shed setting. 
The 2.4-inch (6.1-cm-cm) tall and 7-inch (17.8-cm) long ferocious-looking Velociraptor figure reminds us how Arnold dies, losing his arm in the process. 
Sounds and lights heighten the suspense and even the packaging reflects the authentic setting of the scene. 
Product will be for sale on Mattel Creations, Mattel's collaboration and direct-to-consumer platform, on Thursday, July 22 at 9am PST / 12pm EST
Additionally, this year, Mattel Creations is celebrating collectors during Comic-Con with their first-ever Mattel Creations: 12 Days of Fandom activation! Starting July 12, fans can tune into the Mattel Creations Instagram (@mattelcreations) for exciting product reveals, behind-the-scenes content, designer takeovers and much more.  
An interesting note is the fact that this set depicts a sequence which we never see on screen in the film. Whilst we know Ray Arnold did indeed head into the maintenance bunker to reboot the power, we know from the sequence with Ellie Sattler later in the film that he ultimately fails. It is fun to see Mattel's take on what Arnold's final moments may have looked like – complete with the gruesome detail of the severed arm.
Ray looks like a great figure, although the way the arm is done means you likely will not want to display him fully 'assembled' for want of a better word, since there will be some blood visible and an unsightly seam. The Raptor is a nice variation with some decent paint apps, but it isn't necessarily the most accurate Jurassic Park version we've seen. The real eye catcher is the power box itself – the removable plastic piece becomes a display base for the figures, with the button to press down and create lights and sounds. Together, these three pieces make for a are fantastic set  It is worth noting the display box itself here is gorgeous – with the Mattel team having done an absolutely fantastic job at capturing the claustrophobic nature of this environment from the first film.
Overall, we think this is a really fun pack which brings something fun to the table. Whilst we're not huge fans of a release through Mattel Creations given how chaotic the Nedry release was, we hope that there are more units available this time around – giving more fans an opportunity to get their hands on something which is bound to be a popular exclusive. Here's hoping a less bloodied up version of Ray Arnold also pops up somewhere in 2022's Legacy Collection assortments!
That's all from us – but let us know your thoughts in the comments below! Are you excited for this pack? We'd love to know. Make sure to stay tuned to Collect Jurassic for all of your Jurassic collecting news!