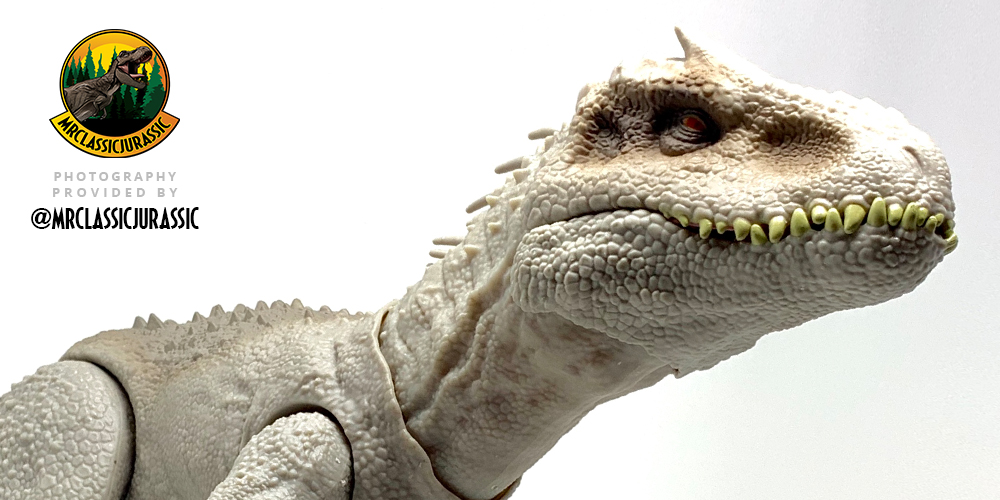 Photography for this review was provided courtesy of @MrClassicJurassic (Instagram)—scroll below the article for more content. Additionally, please welcome our newest Collect Jurassic contributor, Joshua. You may know him as The Paleo Collector (Instagram & Facebook).
Arguably the most anticipated figure from the Mattel's Dino Rivals lineup, the Destroy 'N Devour Indominus Rex does not disappoint. This girl is stunning in every way! The saurian antagonist from 2015's Jurassic World is brought to life in extraordinary detail. Every scale, scute, bump, wrinkle, and osteoderm is present. Her teeth are jagged and menacing, and her talons are long and intimidating. CGI assets must have been used, because this is the most film accurate sculpt Mattel has produced thus far. A few fans have commented  on the length of the tail, and feel it far too short, but it looks much better proportioned in person. The figure stands beautifully, and any change to her design could have thrown that off. In any case, the tail length does not detract from the figure as some had feared.
Be prepared to make room for Destroy 'N Devour Indominus Rex in your display area, because she's gigantic! It is easily the largest in-scale toy besides Mattel's Mosasaurus (Although, the upcoming Brachiosaurus will dwarf them all). Standing approximately 10 inches (about 25 centimeters) tall and 24 inches (61 centimeters) long, she is definitely an eye catching display piece.
The figure's gimmicks are both fun, and brilliantly executed. A button at the rear opens her mouth, allowing her to bite and roar. The roars are loud, clear, and movie accurate. A button in the middle activates a grabbing motion, as well as a swishing sound. Tilting her down lowers her head, and tilting her up changes her normal roar to a chomping sound as she swallows her prey. A small plastic plate at the rear of her throat activates lights in her throat which shows the silhouette of whatever item is in her gullet. Unfortunately, Destroy 'N Devour Indominus Rex cannot swallow all the way like the classic Kenner Bull Rex, but that's an understandable compromise given the mechanisms inside. An interesting note: sometimes mine has the throat light up when I only push the rear button. I'm not sure if this is common, or if I just have an overly sensitive throat switch. 
Articulations are mostly tied to the action gimmicks, although both arms are fully poseable, and the right leg can move somewhat. The figure's feet are capable of turning as well. The mouth opens very wide, just as it does in the film.
Indominus Rex's coloration here is spot on. Her body is a grayish white with darker highlights around the fenestra of the skull, and along the back. It is all blended very well. The talons are painted a dark gray, and feature a nice gloss. Regrettably, the hand claws are unpainted—but it's not too distracting. The teeth are individually sculpted and painted a nice off-white. They also have a glossy appearance, as does her nicely sculpted pink tongue and gums. The upper palate is sculpted as well, but does not extend very far back due to the swallowing feature. Her eye is done in a piercing orange. The pupils, however, are not painted. Mattel has opted to let the background color act as the pupil, as they have done in many of their other dinosaur figures in the line. On this figure, it works well thanks to the darker paint around the orbit. 
Over all, this latest Mattel release is not to be missed. Time will tell, but the Destroy N' Devour Indominus Rex may just be my new favorite Jurassic World collectible! She can easily stand up to the greatest classic figures of my youth, and I could easily see this becoming one of the hottest toys this holiday season. While she may not scare the kids, she will surely delight them! 
The Destroy N' Devour Indominus Rex can currently be purchased at the links below, with the next shipments expected in June.
---
We want to thank @MrClassicJurassic for contributing his wonderful photography of the Destroy N' Devour Indominus Rex figure for this article. Definitely check out his Instagram for more excellent Jurassic content, like this signature InGen Database Dinosaur Profile for the Indominus figure. 
View this post on Instagram