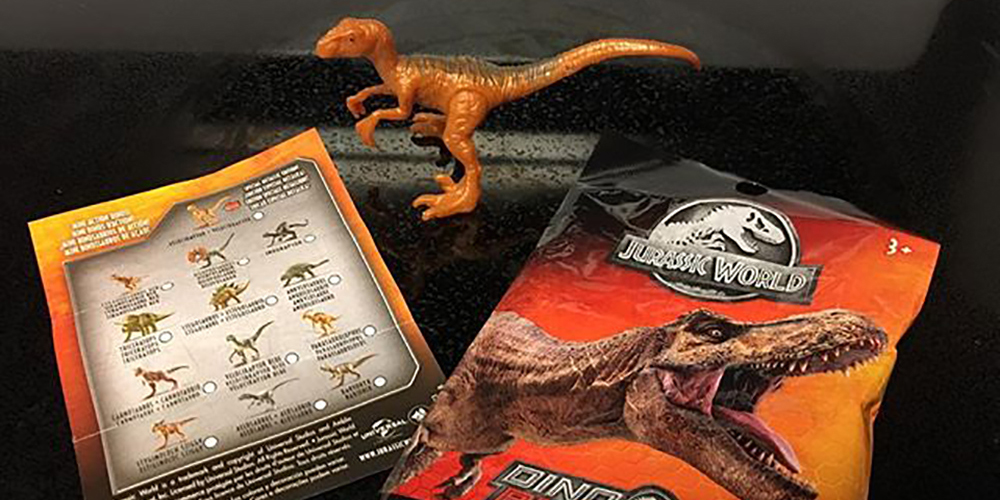 Mattel's Mini Dinosaur figures have been proven to be a popular item since the blind bagged toys released last year, followed up by waves of new species and paint variants throughout 2018. It's no surprise the bite-sized assortment has returned under the 2019 Dino Rivals branding, though collectors may be disappointed to know the wave is mostly repacks. However, there is one unique figure to collect: a 'Special Metallic Edition' Velociraptor. Thanks to @dinos_r_us we have our first in-hand look at this unique deco of the Mini Raptor, which uses a previously released mini sculpt.
With so many new species being added to Mattel's 3.75″ scale Jurassic toyline this year, it is a little curious that this latest wave of Mini Dinos lacks any complimentary newness. Similar to last year, more waves could be incoming—hopefully with some fresh sculpts to collect!
Check out our gallery below of the newest Dino Rivals Mini Dino figure courtesy of @dinos_r_us, including the packaging code if you're not interested in rolling the dice with the bling bags. Will you be tracking down the Special Metallic Edition Velociraptor, or are you waiting for new Mini Dinos species? Let us know in the comments!