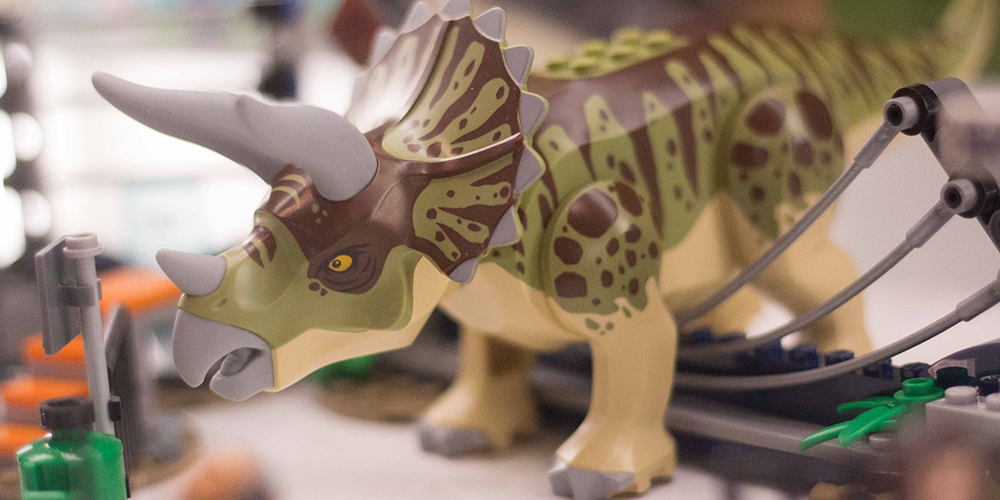 We've arrived at our final piece of 2019 New York Toy Fair coverage, our time with the all-new LEGO Jurassic World sets coming this Fall. First unveiled the day before the show, LEGO's next foray into Jurassic isn't directly connected to either of the Jurassic World films, but are instead based off an upcoming mini-series titled LEGO Jurassic World: Legend of Isla Nublar that will air later this year. Feel free to revisit our previous piece covering that announcement for more details, while in this recap we will be focusing more on our hands-on time with the LEGO sets themselves.
The entire LEGO Jurassic World: Legend of Isla Nublar assortment was on full display within LEGO's massive Toy Fair booth, which includes 75934 Dilophosaurus on the Loose,  75935 Baryonyx Face-Off: The Treasure Hunt, 75937 Triceratops Rampage and 75938  T. rex vs Dino-Mech Battle. Each set was playfully posed along with the presumed final packaging acting as a background, allowing us a look at the new box artwork for LEGO's 2019 Jurassic releases. LEGO's Toy Fair presenter walked through each play feature, which we'll get more into below, and even let us handle a few of the new characters and dinosaurs like the lovely new Baryonyx figure.
Some highlights in terms of play features across the new lineup were the functioning Egg Spinner ride, breakable Triceratops Paddock and a lava-spewing volcano that opens up to reveal a hidden treasure. The Egg Spinner in particular is an awesome addition to LEGO's Jurassic collection, as the ride itself is pulled right from the Jurassic World park map (aptly named 'The Scrambler' in the map's legend). While it was never shown in the movies, it is indeed a canon attraction and to see it realized in toy form is very cool. There are also some nice details in the Dilophosaurus on the Loose set, with it's "Coming Soon" Indominus Rex poster and various souvenir maps and magazines.
Back to the dinosaurs, the new Baryonyx makes for an excellent addition LEGO's dinosaur roster with it's sleek snout and movie-accurate color scheme. The Triceratops figure isn't technically new to LEGO, but it's new for the Jurassic World line and finally adds a herbivore to the mix. Dilophosaurus looks a little different in it's upcoming set, with a simpler sculpt an more subdued coloration—possibly a plot-specific element from the miniseries? Lastly, Rexy is back in a fresh coat of paint and facing off with a Jungle Explorer-themed mechanized T. rex. Now that definitely isn't canon, but we still love it!
As with all LEGO there dozens of cool, tiny details in each of these new sets, many of which will surely make more sense within the context of the LEGO Jurassic World: Legend of Isla Nublar miniseries once it hits this year. You can dive deeper into those details with the official LEGO set descriptions we're reposting below, as well as in our HD image gallery linked at the end of this article. Jurassic Contrast's photo coverage for Collect Jurassic resulted in so many amazing photos during this year's Toy Fair, and our time at the LEGO booth was no exception. Enjoy!
75934 – Dilophosaurus on the Loose
Explore LEGO Jurassic World with Owen Grady and build his drone to look after the dinosaurs. Meet Hudson Harper, a kid who knows everything there is to know about dinosaurs. And build the market stall in the shape of a dinosaur head with LEGO bricks. But look out—a young Dilophosaurus has escaped and is creeping up behind Hudson. Fly to the rescue with Owen's drone, fire the net shooter and capture that dinosaur. Every day is an adventure with this action-packed LEGO playset!
Ages 6+, 168 pieces, $19.99 (USD)
75935 – Baryonyx Face-Off: The Treasure Hunt
Rush to stop Danny Nedermeyer and Sinjin Prescott's dangerous treasure hunt in LEGO Jurassic World! According to legend, there is treasure hidden on Isla Nublar and Danny and Sinjin have a map and old video tape to help them find it. But when a Baryonyx dinosaur thinks they are trying to steal her fish, they have to hide out in an old trailer. Help Owen Grady and Claire Dearing fix up the offroad buggy. Then drive with them and Red the dog to catch the bad guys before they steal the treasure!
Ages 7+, 434 pieces, $59.99 (USD)
75937 – Triceratops Rampage
Take a ride on the awesome new LEGO Jurassic World Egg Spinner with Simon Masrani and Allison Miles! Then check the sign for directions to Jurassic World's gyrosphere. But, watch out—there's been a power failure and the mighty Triceratops has smashed through the fence and escaped! Jump in the buggy with Owen Grady and speed to the rescue. Dangle a carrot in front of the mighty dinosaur to distract it and save the tourist. There's never a dull day in Jurassic World park!
Ages 7+, 447 pieces, $59.99 (USD)
75938 – T. rex vs Dino-Mech Battle
Danger! Danny Nedermeyer is roaming Jurassic World park in his huge Dino-Mech on a mission to steal the treasure hidden in the Isla Nublar volcano. But first he has to face the mighty T. rex. Jump in the boat with Owen Grady, Claire Dearing, Vic Hoskins—plus baby Velociraptors Blue, Delta, Echo and Charlie—and speed to the battle scene. Fire the boat's stud shooters at the Dino-Mech. Put the T. rex to sleep with the tranquilizer gun. You must stop Danny before he finds a way to smash into the volcanic rock and steal the treasure!
Ages 8+, 716 pieces, $89.99 (USD)