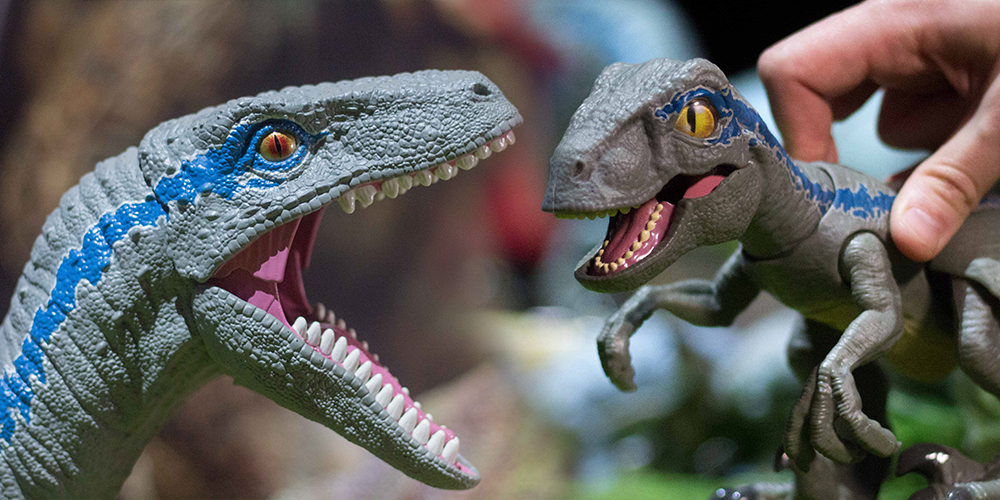 Leave it to the Blue, the dinosaur star of the Jurassic World franchise, to show up to New York Toy Fair this year and surprise us with not one but two all-new toys from Mattel. For our latest recap and HD image gallery, we'll be focusing on both of the Super Colossal and Primal Pal Velociraptor Blue figures. From the massive Super Colossal scale to the puppy-dog sized Primal Pal, Mattel has turned everyone's favorite Velociraptor into two must-have toys for kids and collectors alike.
Size matters when it comes to the Super Colossal figure scale from Mattel, and the new Blue figure is somehow even more imposing than the previously released Super Colossal T. rex. Maybe it's because the figure, while not quite close to being life-sized, feels like it might just be a living, breathing raptor about to pounce. The detail on Blue is incredible, with individually molded scales and skin folds covering the entire figure along with piercing, glossy eyes—the most lifelike we've seen on a Mattel figure yet. These elements, combined with the sheer size of Blue, immediately grabbed our attention at Mattel's Jurassic World Toy Fair setup.
Like the Super Colossal T. rex before before her, Blue also can swallow smaller toys whole. We didn't get a good look at where the figures come out, but it can be assumed the same compartment opens up on the figure's stomach. It also features articulation in the arms and legs, as well as hinged jaws with a wide range of motion. Seeing Blue with her jaw fully closed gives the figure a more docile, sentient appearance similar to the character's scenes with Own in the films. But open the jaws and flash some teeth and she instantly becomes more menacing, not unlike any other wild Jurassic Velociraptor.
With reference to Blue's scenes with Owen in both Jurassic Worlds, none are cuter than the flashback clips shown in Fallen Kingdom featuring a feisty infant Blue. This year, Mattel is bringing us a toy that perfectly recreates the adorable baby raptor for Jurassic aficionados of all ages. Primal Pal Blue features a slick motion action feature that works in concert with movie-accurate electronic sound effects. Depending on where Blue is pressed on her back, she lunges downward, howls upward and swings her body side to side. The articulated joints on the figure interact to create realistic motion during these actions, pairing perfectly Blue's various squeaks, squeals and growls.
Aside from Primal Blue's signature action features, this figure also packs a detailed sculpt with "glass" eyes for added realism. The aesthetic for this figure still aligns more with the Hatch 'N Play Blue toy than the actual movie's character design. We're guessing this was a conscious choice for a toy aimed principally at a younger audience as opposed to some of Mattel's other Jurassic releases. There's no denying Primal Pal Blue is bringing the cute factor,
Fall 2019 sees both the Super Colossal and Primal Pal Blue releasing in stores. The figures certainly offer something for everyone, and it's awesome to see Mattel bring Blue to life in two completely different toy styles. Below is the official Mattel fact sheet for Primal Pal Blue (as of press time were aren't able to publish a similar rundown for Super Colossal Blue). And don't forget to visit the link to view our full HD gallery of both Blues at New York Toy Fair! Thank you to Jurassic Contrast for assisting Collect Jurassic with photography at the show this year.
Jurassic World Primal Pal™ BLUE (GFD40)
SRP: $24.99 | 4Y+ | Available Fall 2019
Inspired by the fan favorite, Velociraptor Blue, this Primal Pal dinosaur captures the moments when Baby Blue and Owen bond during her training session.
Watch Blue come to life by squeezing down on her leg and see her wiggle from side to side. Turn her neck from side-to-side, and open and close her mouth as well.
Blue also features neck, shoulder and feet articulation, sound effects and realistic eyes.