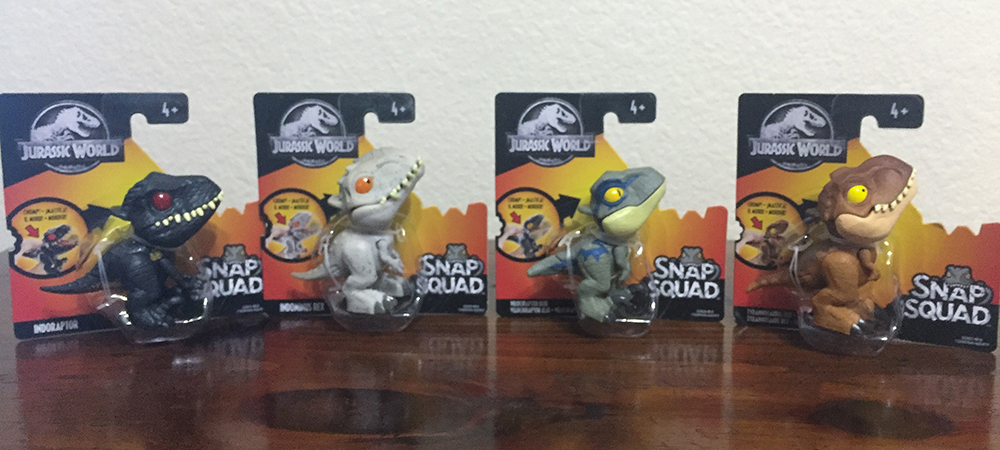 During our hands-on time in Mattel's New York Toy Fair booth earlier this year, we instantly fell in love with the tiny-but-mighty Jurassic World Snap Squad figures. As covered in our previous article, these adorable dinosaur designs feature a literal bite that allows them to hold onto shirt pockets, backpacks or whatever else you can come up with. A plethora of different species were on display during the show, and we were told even more were on the way. Today we're getting eyes on some of those new figures with this image of Snap Squad Mosasaurus, Spinosaurus and Bayonyx (submitted by a friend of Collect Jurassic). This photo does appear to be a very early look at these toys, so it remains to be seen if these are still planned for release. But we sure hope so!

Speaking of releases, Wave 1 of Snap Squad will soon be showing up in stores as indicated in these in-hand shots of Indoraptor, Indominus Rex, Blue and T. rex. It looks like this initial assortment is pretty paired down from what we saw at Toy Fair—there may eventually be 3 or 4 waves including the species just uncovered today judging by amount of figure designs Mattel has created for this line.
Special thanks to our friend PR for passing these images along of their in-hand Snap Squad toys. We can expect the first wave to start hitting stores in the next few months, possibly near checkout areas if not in the usual Jurassic toy section. Collect Jurassic will of course update with more specific release details as we confirm them. Who's planning on adding these chomping cuties to their collection? Let us know in the comments!