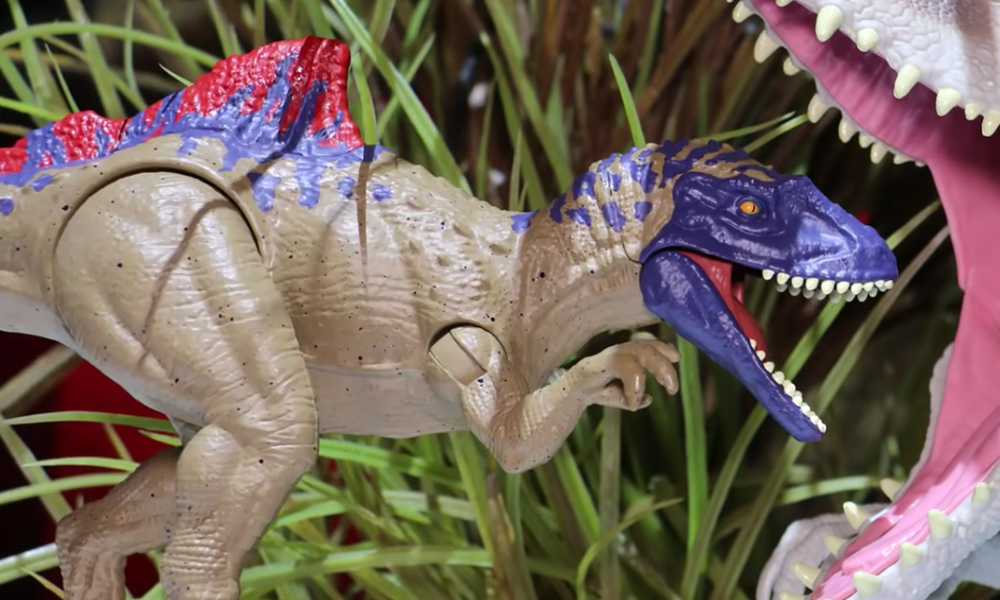 Fresh off this morning's LEGO Jurassic World Reveal, we're at last getting our first peek at Mattel's Jurassic lineup that will be shown this weekend at the Toy Fair. The previously teased Indominus Rex figure is undoubtedly the "breakout" star with it's excellent toy design and playability, flanked by a few familiar dinosaur figures rocking with wild redecos. Blue also makes an appearance, both in Super Colossal and all-new Primal Pal sizes. Scroll down for more details on each of Mattel's Jurassic reveals, as well as image galleries courtesy of WD Toys and FamilyGamerTV.
---
Destroy 'n Devour Indominus Rex 
We already knew Mattel's take on Jurassic World's biggest, baddest villain was going to sport an impressive likeness to the movie's design, and the full reveal at this year's Toy Show does not disappoint. The figure sports multiple action features like chomping jaws and grabbing arms, both accompanied with movie-accurate electronic audio effects. There is also a mechanism that works similar to the Thrash 'n Throw T. rex, that allows the figure to bend down and grab unsuspecting victims in its jaws. Swinging the figure back up allows the Indominus to thus swallow it's prize—with red LED lights in the throat silhouetting each bite! Mattel's Indominus sports articulation in its legs and arms as well, and sizes up quite nicely next to the newly released Bite 'n Fight rex figure.
---
Roarivore/Dual Attack Redux
While we are still awaiting further information on Mattel's other Jurassic figures currently on display, what we have seen of them so far indicates they will be total redecos of existing Roarivore and Dual Attack releases. Concavenator, Ankylosaurus, Ceratosaurus, Triceratops, Metricanthosaurus and Baronyx. Bright, vibrant paint schemes that fit right in with other Dino Rivals releases look great on these "classic" sculpts. Our favorite is definitely the Triceratops, which appears to be another cool homage to the vintage Kenner/Hasbro line. It's worth noting that the electronic roaring feature seem to be making a return on some of the dinosaurs, as the speaker/battery compartments are clearly visible.
---
Super Colossal Velociraptor "Blue"
Our first real surprise of the show, Super Colossal Blue certainly lives up to her name. Like the Rex that came before her, her tail attaches once removed from the box to create this massive rendition of Jurassic World's famous raptor. Jaw, arm, leg and tail articulation are also featured in this figure. Hoping we'll get to see her out of the box before the show is over!
---
Primal Pal "Blue"
Another surprise from Mattel, this newest version of Blue looks to cash in on the infant version of Blue's popularity in Jurassic World Fallen Kingdom. The toy's motion feature is activated by pressing on its back, allowing it to thrash about with electronic squeaks and squeals. Lot's of articulation in this one, plus some pretty impressive "glass" eyes for added realism.
---
Quite a lot to take in, to be sure! Mattel's plans for Jurassic World are still going strong into 2019, with most of these figures set for a summer or fall release. With the Toy Fair officially starting tomorrow and continuing through this weekend, we'll be on the ground gathering more intel on these Jurassic reveals and much, much more!  Keep checking for daily updates on Instagram, Twitter, Facebook, YouTube and here on the website.