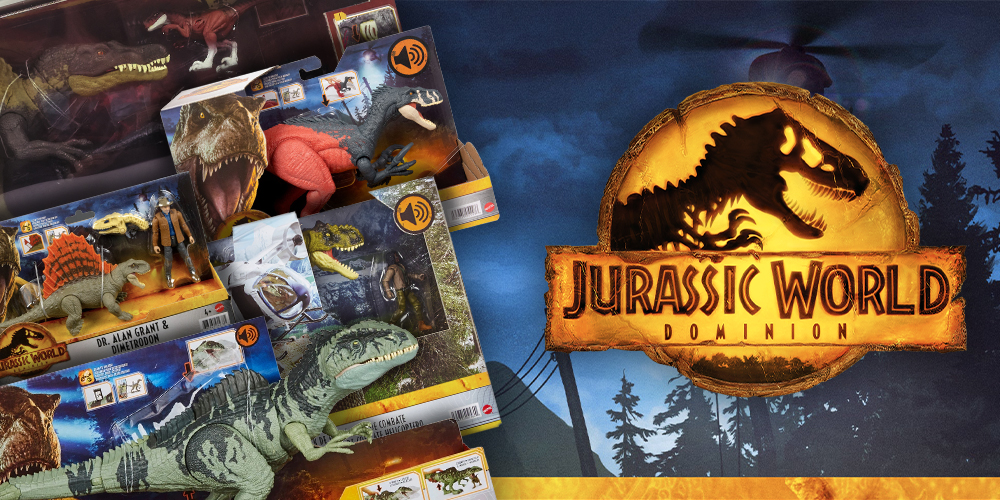 This checklist contains affiliate links.

A new year at Collect Jurassic means a new Mattel Jurassic World toy checklist — and 2022's promises to be bigger than ever alongside Dominion's theatrical release. An expansive lineup of 3.75-inch scale figures is complimented by returning assortments like Legacy Collection and Extreme Damage. Exciting new offerings include a scaled Mini Figure range of playsets, as well as a whole menageries electronic dinosaur pals under the Uncaged theme. And for the adult collectors, the all-new Hammond Collection acts as a premium 3.75-inch replacement for the now retired 6-inch Amber Collection. Despite a pandemic related delay, Dominion's release year is finally here and bringing with it the franchise's largest licensed merchandising push to date.
The Jurassic World Dominion 2022 Toy Checklist will be constantly updating through the year, with new HD image galleries and live shopping links for most major US retailers. Releases from last year can still be found on 2021 Toy Checklists. As always, products will be appearing in and out of stock— bookmark this page and check back often for updates!
All release information subject to change.
Jump To Core Toyline:
Dominion Legacy Collection Extreme Damage Hammond Collection
Jump To Other Assortments:
Basic Super Colossal Mini Figures Uncaged
---
Dominion
 Ferocious Pack



Wave 1 (April 2022):
Moros Intrepidus – Amazon* | Walmart* | Target
Dsungaripterus – Amazon* |Walmart* | Target
Velociraptor Blue – Amazon* | Walmart* | Target
Miragaia – Amazon* | Walmart* | Target
Wave 1 Case Pack – Entertainment Earth
Sealed shipper includes 6x Ferocious Pack figures
Wave 2 (June 2022):
Nasutaceratops (Juvenile) – Walmart* | Target
Rugops Primus – Walmart* | Target
Dimetrodon – Walmart* | Target
Atrociraptor Red – Walmart*


Wave 3 (September 2022):
Einiosaurus – Target
Moros Intrepidus – Walmart* | Target
Velociraptor – Walmart* | Target
Atrociraptor Panthera – Amazon* | Walmart* | Target

 Roar Strikers


Wave 1 (April 2022):
Rajasaurus – Amazon* | Walmart* | Target | Entertainment Earth
Skorpiovenator – Amazon* | Walmart* | Target | Entertainment Earth
Triceratops – Amazon* | Walmart* | Target | Entertainment Earth 
Ankylosaurus – Amazon* | Walmart* | Target | Entertainment Earth
Wave 1 Case Pack – Entertainment Earth
Sealed shipper includes 1x Rajasaurs, 1x Skorpiovenator, 1x Triceratops and 1x Ankylosaurus
Wave 2 (June 2022):
Megaraptor – Amazon* | Walmart* | Target
Iguanodon – Amazon* | Walmart* |  Target
Sinoceratops – Amazon* | Walmart*
Liopleurodon – Amazon* | Walmart* | Target | Entertainment Earth
Wave 2 Case Pack – Entertainment Earth
Sealed shipper includes 1x Megaraptor, 1x Iguanadon, 1x Sinoceratops and 1x Liopleurodon
Wave 3 (September 2022):
Ichthyovenator – Amazon* | Walmart*
Rajasaurus V2 – Amazon* | Walmart*
Triceratops V2 – Amazon* | Walmart* | Target
Pteranodon – Amazon* | Walmart*
Wave 3 Case Pack – Entertainment Earth
Sealed shipper includes 1x Ichthyovenator, 1x Rajasaurus V2, 1x Triceratops V2 and 1x Pteranodon
Massive Action


Wave 1 (April 2022):
Yangchuanosaurus – Amazon* | Walmart* | Target | Entertainment Earth
Quetzalcoatlus – Amazon* | Walmart* | Target | Entertainment Earth
Wave 1 Case Pack – Entertainment Earth
Sealed Shipper includes 1x Yangchuanosaurus and 1x Quetzalcoatlus​
Wave 2 (June 2022):
Ampelosaurus – Amazon* | Walmart* | Target

Wave 3 (September 2022):
Siamosaurus – Amazon* | Walmart* | Target
Human & Dinosaur 2-Pack



Wave 1 (April 2022):
Owen Grady & Velociraptor Beta – Amazon* | Walmart* | Target | Entertainment Earth
Claire Dearing & Dilophosaurus – Amazon* | Walmart* | Target | Entertainment Earth
Wave 1 Case Pack – Entertainment Earth
Sealed shipper includes 3x Human and Dinosaur 2-Packs
Wave 2 (June 2022):
Alan Grant & Dimetrodon – Amazon* | Walmart* | Target | Entertainment Earth
Kayla Watts & Pyroraptor – Amazon* | Walmart* | Target | Entertainment Earth
Wave 3 (September):
Ian Malcolm & Velociraptor – Amazon* | Walmart* | Target | Entertainment Earth
Owen Grady & Parasaurolophus (Juvenile) – Amazon* | Walmart* | Target | Entertainment Earth
Maisie Lockwood, Lystrosaurus & Velociraptor "Beta" – Amazon* | Target | Entertainment Earth
Multi-Packs

Survival Instincts Dinosaur Starter Set – Amazon* (Exclusive)
Epic Battle Pack – Target (Exclusive)
Release 'N Rampage Pack – Target (Exclusive)
Owen Escape Pack – Target (Exclusive)
Sound Slashin' Therizinosaurus

Therizinosaurus – Amazon* | Walmart.com* | Target | Entertainment Earth
Ocean Protector Mosasaurus

Mosasaurus – Amazon* | Target | Entertainment Earth
Thrash 'n Devour Tyrannosaurus rex

Tyrannosaurus rex – Amazon* | Walmart.com* | Target | Entertainment Earth
Strike 'n Roar Giganotosaurus

Gigantosaurus – Amazon* | Walmart* | Target | Entertainment Earth
Brachiosaurus

Brachiosaurus – Amazon* | Target
Vehicles

Copter Combat Pack – Walmart* (Exclusive)
Capture 'n Crush Truck – Amazon* | Walmart.com* | Target | Entertainment Earth
Jeep Gladiator R/C – Amazon* | Walmart* | Target | Entertainment Earth
Playsets

Outpost Chaos Playset – Amazon* | Walmart* | Target | Entertainment Earth
Battle Gate Playset – Cancelled

Back to Top
Legacy Collection
Pack Dinosaurs



Wave 1 (April 2022):
Kosmoceratops – Target (Exclusive)
Velociraptor – Target (Exclusive)
Pachycephalosaurus – Target (Exclusive)
Wave 2 (TBD Release):
Dilophosaurus (Jurassic Park) – Target (Exclusive)
Velociraptor (The Lost World) – Target (Exclusive)
Gallimimus – Target (Exclusive)
Wave 3 (TBD Release):
Geosternbergia (The Lost World) – Target (Exclusive)
Female Velociraptor (Jurassic Park 3)  – Target (Exclusive)

Multi-Packs

Isla Sorna Capture Pack – Target (Exclusive)
Kitchen Encounter Pack – Target (Exclusive)
Dr. Sarah Harding & Stegosaurus Figure Pack – Target (Exclusive)

Gyrosphere R/C

Gryosphere R/C – Target (Exclusive)

Dreadnoughtus

Dreadnoughtus – Target (Exclusive)
Back to Top
Extreme Damage
Pack Dinosaurs