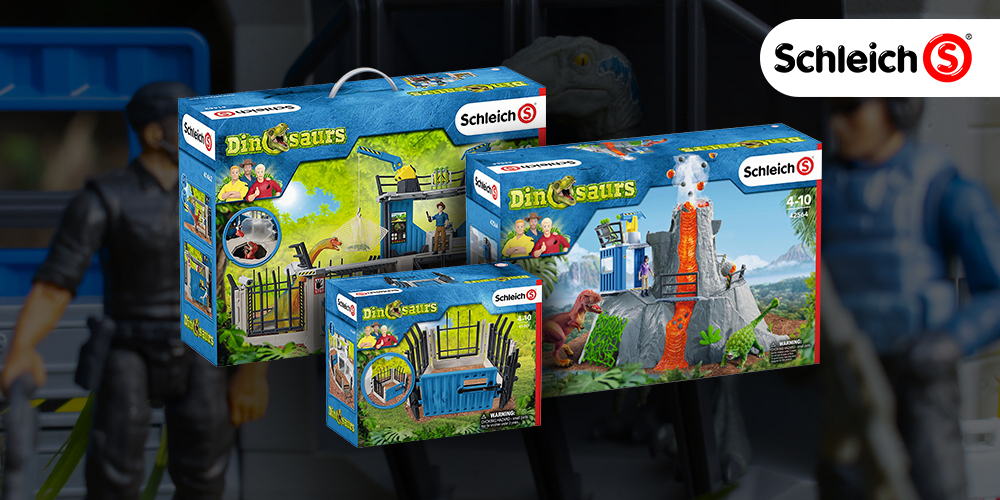 Hey everyone – Tom back here on Collect Jurassic today with an exciting article for you. Today, we are taking a look at a gorgeous playset from the team at Schleich. This is the Large Dino Research Station (Available from Schleich and Amazon) – a 3/34 inch scale playset from the Schleich dinosaurs line which provides arguably our closest example of a in-scale playset for Mattel's Jurassic World line. In this article we are going to give you an overview of the set and will then take a closer look at how it displays with Mattel toys.
Starting initially with the included Brachiosaurus and the Raptor, it is important to note that these are not on par with Mattel figures. They are more static models than action figures in the traditional sense, and the included human also has less articulation than any of the humans available as a part of the Mattel assortment. These are nice inclusions to create a complete playset, but they are not the reason why we recommend you pick up this set – so let's jump into taking a look at the actual playset itself.
The ground floor of the Research Station has some cool details – including a gate leading into the paddock beyond it, a cage-style element which is similar to the cages which the Velociraptors are stored in at the IBRIS facility in Jurassic World, an opening external door which allows animals and humans in or out of the lower area, and also a ladder which leads up to the upper floor. It's worth noting that the ground floor also features connection joints for the fencing which is included in this playset, too – and you can expand on the fencing by adding more elements from the Extend-A-Fence playset (Available from Schleich and Amazon).
The second level then gives us a control room area, complete with a computer console and a tool rack, and also a small walkway which goes to an outdoor observation area. The walkway can be raised to create a more self-contained control room, and the room also features a ladder which leads to the rooftop. The rooftop features a crane – complete with a net with some food in, and also a removable missile launcher which can make for a fantastic rooftop observation area with these elements removed. All of the playset elements here feel rugged and functional – and the best part is all the details are stickers, meaning we can keep logos and other elements off to really make this feel like a Jurassic World playset.
To double-down on just how well this works with the Jurassic World line I wanted to share some of the photographs which I have taken recently with this playset in my garden. It provides a real breadth and depth of display options and works incredibly well with Mattels assortment – with the modular nature of the playset meaning you can build a smaller and more confined environment or a larger environment – lending itself well to play at different scales whilst also giving flexible options to toy photographers. I honestly cannot tell you enough how much I love this playset – so why not take a closer look at it in the below video?
However – the excitement doesn't end there, as we recently stumbled upon the Volcano Expedition Base Camp (Available from Schleich and Amazon) – an additional playset which will be able to be added onto the side of the Dino Research Station thanks to aforementioned walkway. This looks like a fantastic playset which could easily double for a facility near Mount Sibo on Isla Nublar – once again providing even more options for play and display when combined with the Jurassic World assortment. We really love the modular nature of Schleich's toys – and we hope that Mattel take note and offer something similar for Jurassic fans in the future.
It's safe to say that Schleich are doing some awesome things which go hand-in-hand with the Jurassic toys that we all know and love. That's it for this highlight article – but we'd love to hear from you! Let us know what you think of the Schleich line in the comments down below – and tell us if you're planning to pick up that volcano when it releases!