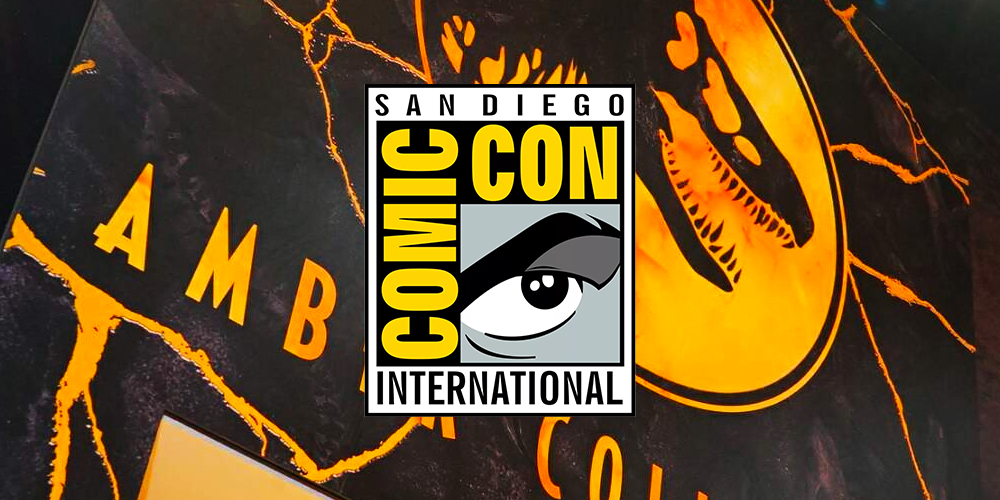 At San Diego Comic Con, Jurassic news comes flying in quicker than a Mosquito landing in Amber Sap. With that in mind, we wanted to create a LIVE update post to bring you the latest news as soon as we get it. Whether it be updates from the Mattel panel, debuts from other partners or other news altogether, we want to collect all that here for you. If you want the latest news from SDCC, stay tuned right here on Collect Jurassic!
---
First look at the BRAND NEW Battle Damage Spinosaurus In Box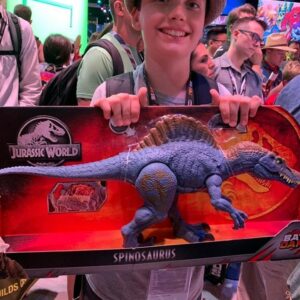 Adam also brings us our first look at the BRAND NEW Battle Damage Spinosaurus in it's box. How cool does this look?
---
17 New Species From Mattel In 2020
We can expect a massive SEVENTEEN new specieis to join the Mattel lineup in 2019, thanks to news from the Mattel panel.
We believe these dinosaurs may be branded 'Primal Attack', although this hasn't been confirmed just yet. Mattel have hinted that some of the dinosaurs under this line will tie into the upcoming Camp Cretaceous, which is incredibly exciting!
New dinosaurs confirmed so far are Cryolophosaurus, Alioramus and Edmontosaurus, as well as a brand-new variant of the Carnotaurus.
2020 is certainly shaping up to be a great year for Mattel!
Thanks to Nostalgic Adam on Instagram for the great photos!
---
Mondo Games & Restoration Games Add Jurassic Park to the Mix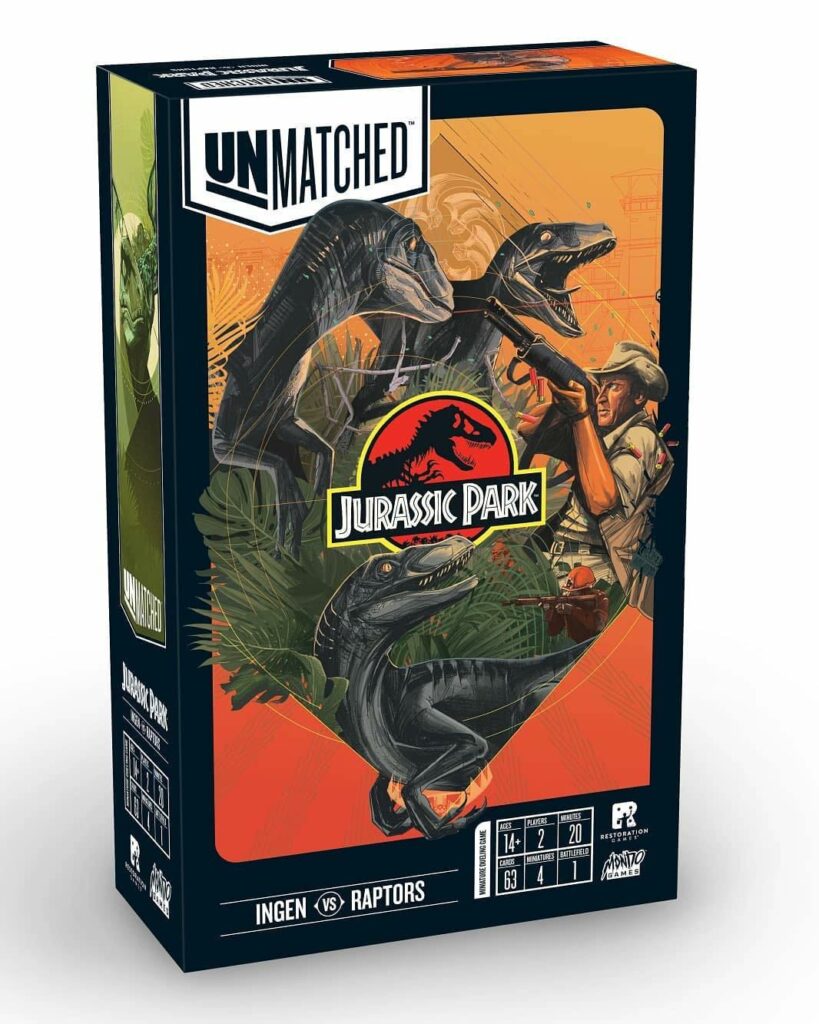 Mondo Games and Restoration Games have announced the next license to appear in their head-to-head skirmish game system Unmatched. Fans of Jurassic Park will be thrilled to learn that the pair of two-player sets and a solo-hero pack are on the way, leading with Unmatched: InGen vs. Raptors in late 2019.
Sattler vs. T rex and Dr. Alan Grant's solo expansion will expand the line in 2020, allowing players to pit even more of their favorite heroes in combat against iconic dinosaurs from the 1993 film. As with all Unmatched sets, the power to mix and match heroes and maps to create a customized play experience is not only possible but encouraged.
Marketing Manager at Mondo Games Jayme Boucher explains, "Today's gamers have options. Not only do we have thousands of titles to choose from, but we have choices that are impeccably designed. Modern games provide quality experiences that blur the lines of art and entertainment. To that end, our goal wasn't simply to make 'a Jurassic Park game'. Our goal was to make a Jurassic Park game unlike any other available. Teaming up with Restoration Games has allowed us to do that, and we're incredibly proud of how it turned out."
Each character deck has been engineered to represent the personality and characteristics of its on-screen counterpart, and no two heroes (or dinosaurs) battle the same way. Additionally, the unique maps featured on the game boards allow players to designate specific terrain to either replicate scenes from the film or direct their own.
"We teamed up with Mondo Games to bring exciting characters and settings to the battlefield in Unmatched, and they came through in epic fashion with Jurassic Park." Explains Restoration Games President Justin D. Jacobson. "It is a thrill to get to work with one of the world's premier licenses. Bringing these truly unique fighters into Unmatched — from massive dinosaurs to brilliant scientists — really shows the system's strength, with each deck capturing their combat style. It only took 65 million years, but the Jurassic Park skirmish game you've been waiting for is finally here!"
All three Jurassic Park sets continue to push the boundaries of art in modern games by featuring illustrations from Oliver Barrett, who also worked on Unmatched: Battle of Legends, Vol 1., Robin Hood vs. Bigfoot, and Bruce Lee. All three are all debuting at Gen Con this year. These Jurassic Unmatched releases will replace the previously announced Jurassic Park: The Chaos Gene game which is no longer in development.
---
Sideshow Collectibles Sick Triceratops
Also from our friends at Jurassic Outpost, we have this look at the brand-new Sick Triceratops statue from Sideshow Collectibles! We absolutely love how this statue is not just of the Trike itself, but it also includes an assortment of characters from the classic scene, including Jurassic Park Vet Gerry Harding!
I believe this may be the first time we have ever seen him in collectible format, so it's great to see more new additions joining the Jurassic lineup at San Diego Comic Con!
---
Jurassic Outpost Hit Comic Con's Floor
Our good friends Samantha  and Corey  from Jurassic Outpost have been KILLING IT on the floor at San Diego Comic Con, with lots of on-the-floor coverage including a great live interview with the Gamestop team involved in the hotly anticipated Amber Collection.
Make sure you check out their Instagram, linked below, for the latest news straight from the showroom floor!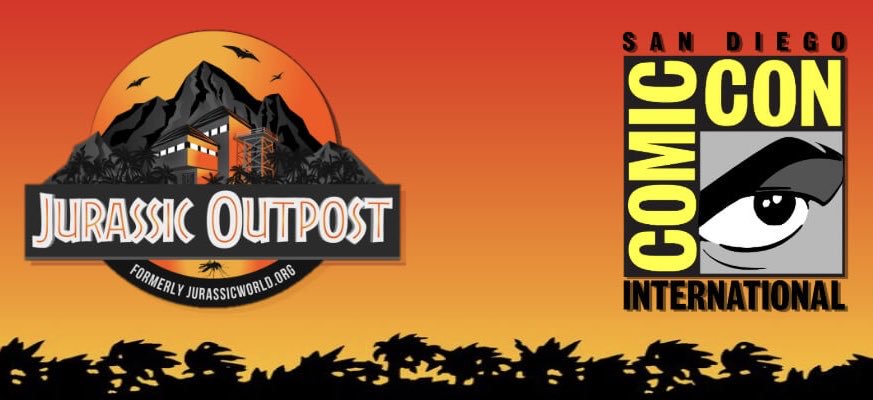 ---
Chronicle Collectables 1/6th Line Still In The Works
A few of you may remember that a while back, we saw a taste of a 1/6th Line from Chronicle Collectibles. The line was incredibly exciting – with a 1/6th scale figure of both Owen Grady and Alan Grant previewed at SDCC 2016, courtesy of Toyark.
Now, three years later, it looks like these figures may finally be becoming a reality. Thanks to our friend Jurassic-Pedia we have our first taste of how this line is shaping up in 2019, with a taste of a 1/6th scale Velociraptor from Jurassic Park, complete with the 1/6 scale Alan Grant accompanying this vicious predator!
We're really excited to see where this line goes! Companies like Sideshow Collectibles and Hot Toys do really well with the 1/6 scale market, producing high-quality collectibles from a variety of film properties. With an assortment of great characters now part of the Jurassic roster, there is a lot of potential for more characters to join this lineup in the future!
---
Breaking Down The Dino-Sized Mattel Reveals from Day One
We saw some great reveals on San Diego Comic Con's first day, with most of the reveals pertaining to brand-new toys from our friends over at Mattel!
These included a brand-new dual-attack Triceratops, a brand new paint deco for the Baryonyx, and the debut of the Amber Collection. Day One confirmed that the Amber Collection will be exclusive to Gamestop, with preorders live right now!
Checkout our full breakdown of Day One, courtesy of Tim, by clicking here.