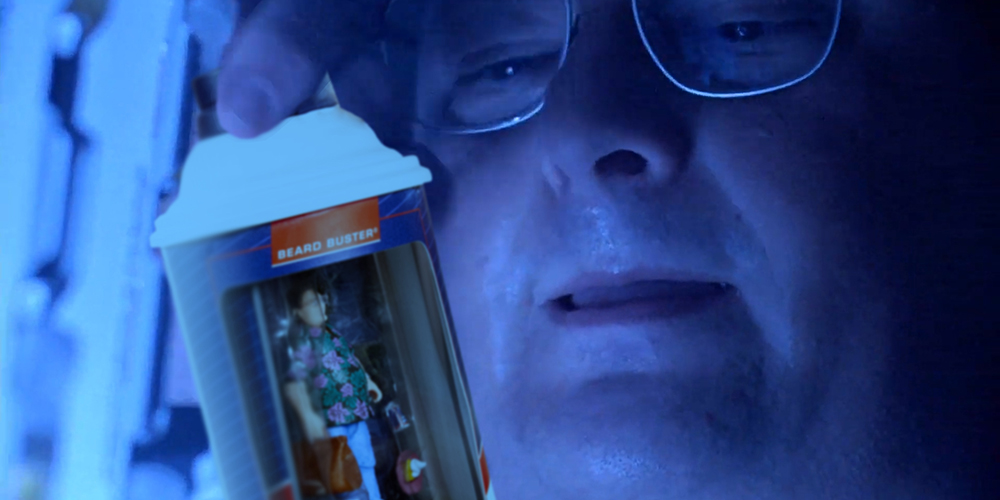 Update: Mattel Creations has shared more Nedry release details via Instagram, with a post hinting at exclusive availability through their Instagram account on Thursday, July 23rd.
Yesterday's surprise announcement of an all-new Mattel Jurassic Park figure, the "Convention Exclusive" Dennis Nedry and accompanying Barbasol Can display was met with so much enthusiasm that preorders for the figure on Entertainment Earth sold out within an hour. While many collectors were able to secure their own, limited quantities meant that selling out was inevitable. Understandably, this left a lot of would-be embryo smugglers worried that they may never get another chance at this unique and exciting exclusive. Today we're happy to report that there will be at least a couple more chances to snag Nedry and his Barbasol can display this summer, before desperate collectors need resort to eBay to get their figure fix.
First, we want to get one thing out of the way. If you're disappointed or frustrated by the idea of a "Convention Exclusive" figure, definitely check out our article on last year's SDCC John Hammond figure. We won't retread all of that here, but the bottom line is that limited edition releases like Nedry not only build hype around the toyline — they also also usually act as a precursor to a wider release. Of course in Hammond's case that turned out to be absolutely true, as that figure will now be hitting store shelve as part of a bigger set as soon as next month. While there's no official word that the same will happen with Dennis Nedry, it's a pretty safe bet that he'll back in some form as a wider release. He may not come with all the same accessories or the fun Barabsol can display, as those elements are most likely limited to the "Convention Exclusive" version. However, the odds are definitely in our favor for this popular character to return in a 3.75″ version.
Limited quantities will be available in July. Be sure to follow @mattelcreations for updates!

— MATTEL (@Mattel) June 25, 2020
Those still determined to track down the Barbasol Can display release of Nedry shouldn't abandon all hope quite yet though. Mattel's social media quietly announced after the preorders ended that another chance to secure the figure was coming soon. MattelCreations.com, a somewhat new website that's previously been used to sell limited releases like the Hot Wheels Tesla Cybertruck toys, looks to be the next major opportunity to purchase the "Convention Exclusive" version of Dennis Nedry. The official word is that the figure will hit the website in July, and in limited quantities. Be sure to follow @MattelCreations on Twitter for further updates. But wait, there's more! While this might be a bit of a gamble, the official Twitter account for Barbasol also hinted at a possible giveaway.
UPDATE: Wow! We were informed that Entertainment Earth's pre-sale sold out in 1 hour! Be sure to follow @Mattel for the next chance to purchase one for yourself! Oh – and don't take your eyes off our page for too long either! ? #Giveaway

— Barbasol (@BarbasolShave) June 24, 2020
Of course, there's still a strong chance that Entertainment Earth will have more Nedrys for sale soon as well. While a proper restock isn't likely, we know from last year's exclusive John Hammond release that extremely limited "non-mint" quantities were made available some time after the official ship date of the toy ⁠— and at a discounted price. In addition to this possibility, Entertainment Earth will probably have more preorders available for another reason. Yesterday's launch was somewhat marred by rampant price gouging via resellers on websites like eBay. The figure was supposed to be limited to one per client, but it quickly became obvious that many resellers had found a way to place multiple orders and were in turn selling them on the secondhand market with signifiant markup. Surprisingly, Entertainment Earth addressed the issue on their official Twitter account and promised to investigate. This could possibly lead to orders being cancelled for those who ordered more than one Nedry figure, thus freeing up inventory for additional preorders. Nothing has been officially announced in that regard, but it seems to be the likely outcome in this case.
Collectors come first at Entertainment Earth, that's why we limited our Exclusive Mattel items to one per client. We're investigating any instances of multiple orders from the same individuals. Stay tuned for any updates, happy collecting!

— Entertainment Earth (@EntEarth) June 25, 2020
The "Convention Exclusive" Dennis Nedry and Barbasol Can display has certainly proven to be a very popular figure. So much so that a lightning-fast preorder sellout has many collectors clamoring to secure their own. Thankfully, keeping an eye on MattelCreations.com and a little bit of luck should help out some. Remember to stay tuned to Collect Jurassic on social media as well (Instagram, Twitter, Facebook & YouTube) for more updates on the future availability of this hot release.