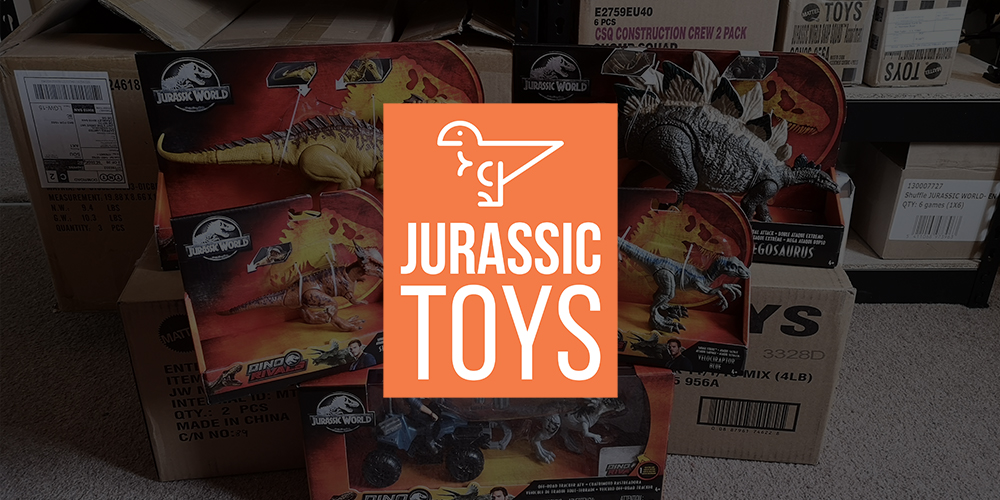 When you love a franchise like Jurassic World, you can really want to make sure that you are able to get your hands on as much as you can.
Whilst our friends at Mattel have done a fantastic job distributing products in the US, their international distribution has left a little bit to be desired – with fans across the world longing to get their hands on some of the hotter toys from the assortment.
Now whilst we don't have a world-wide solution quite yet, things are looking a little bit better for fans in the UK and Europe. UK-based toy company, Jurassic Toys, helmed by Jurassic fan Dan, are aiming to bridge the gap and provide UK fans with the opportunity to get their hands on many of Mattel's hot items – including Snap Squad, the Indominus Rex and more.
To learn a little bit more about this new company, we decided to sit down with Dan to talk all things Jurassic, and to find out how UK collectors can get their hands on these illusive toys.
---
Tom: Hey Dan – thanks for taking the time to talk to us! Firstly, how did you get into Jurassic Park?
Dan: I have been obsessed with dinosaurs and Jurassic Park since I was a kid. My earliest cinema memory was going to watch Jurassic Park in 1993 with my mum and dad. Ever since then, Jurassic has been a big part of my life. It's my Christmas tradition to re-watch all the Jurassic films over the holidays. Yes, even Jurassic Park III! At least that film brought us operation genesis and helped me to live out the dreams of building and destroying my own dinosaur park.
Tom: Did you have many of the Kenner Toys when you were younger?
Dan: I remember having lots of the toys and sets as a kid.
Tom: Which one was your favourite?
Dan:  I was always one for recreating my own Jurassic Park and the toy that sticks out the most is the Jurassic Park Command Compound!  Close behind are the classic Jurassic Park cars. The Jurassic park jeep is probably the reason I now drive a Jeep!
Tom: So, Jurassic Toys are now carrying a plethora of Mattel products for UK fans – how did that come about?
Dan: When this toy line was launched last year I quickly became obsessed with it. What turned out to be only a few pieces ended up becoming two whole shelves full of toys. I soon realised that I didn't have the space or the money to collect them all. So, I thought about it, and decided what better way was there to get to see and interact with the toys than to have my own business dedicated to dinosaurs.
Tom: What's your favourite toy from the line so far?
Dan: My personal favourite from the line so far is the original Roarivores Baryonyx. But, the Snap Squad could be my new obsession – I love those little guys!
Tom: Are you planning on growing your offerings further in the future?
Dan: I am always looking at increasing our range, and the next few months is going to see a lot of new Jurassic Toys added, both new and old.
Distribution hasn't been great over here, so we will always be trying to find new ways to bring in the toys that would not otherwise be available here, so UK fans are able to enjoy the toys too.
I will also be looking to go further into the collector's market, and this will include a range of dinosaurs and statues from other manufacturers.
Jurassic Toys only been going five months, and I have lots of exciting ideas for the future. One day I would like to open a physical shop with dinosaur themed play areas and a café. A sort of destination shop – with lots to do and see!
Tom: Lastly, where can people keep in touch?
Dan:
Facebook: facebook.com/Jurassic.toysUK
Instagram: @jurassic.toys
Twitter: @jurassic_toys
Email: [email protected]
---
So, there you have it – it's not all doom and gloom for fans of the Jurassic toys in the UK! And, if that hasn't got you excited – we've got even better news! Jurassic fans in Ireland, France , Germany Spain, Italy, Belgium, Netherlands and Portugal can also get their stock of Jurassic goodness through Jurassic Toys – meaning you never have to miss out on your favourite dinosaur figures.
Whilst Mattel have absolutely nailed these incredible toys, it is very important that fans are able to buy them and show how much they appreciate them. If Distribution is not addressed then fans cannot buy these toys – so it is great that people like Dan are willing to step in and address the problems.
Oh – and if you've read this far, as a token of our thanks for your continued support, have a discount on us. Use our promo code "COLLECTJURASSIC" and get 5% off your next Jurassic Toys order on Jurassic Toys. Go get that Styracosaurus at last!