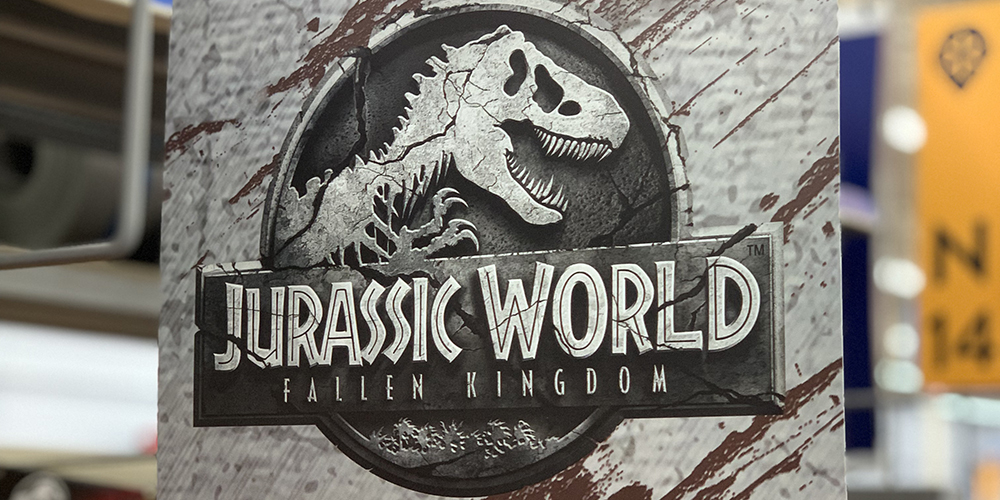 Jurassic Park and Jurassic World toy collectors across the globe – you have outdone yourselves and have really shown all the team here at Collect Jurassic a real Jurassic World throughout the day today!
For anyone who was unaware, today (16th of April) marked the day when the Jurassic World Fallen Kingdom toys created by our friends over at Mattel first hit toy shelves everywhere from the USA to Europe and numerous continents in-between. Fans from all over could sink their teeth into arguably the best Jurassic toys we had seen since Kenner initially enter the foray all the back in the Summer of 1993. It was a tremendous event last year – with collectors and budding palaeontologists sharing hauls both large and small, with items such as the Thrash N Throw T-Rex and the Indoraptor reigning supreme across the collecting lands.
To celebrate this momentous occasion, we wanted to take a moment to really celebrate the incredible legacy these Mattel toys have left one year on – a legacy which really has been fuelled by a community who are as creative and energetic as the people who are making these toys. Across the past year, we've seen incredible pictures of dinosaurs locked in killer duels and exploring incredible environments. We've seen fantastic reviews, and we've seen amazing stop motions which really have captured the imaginations of fans both big and small. So, below you will find a gallery of photographs submitted entirely by Jurassic fans – who were eager to share what Mattel's toys have grown to mean to them, and what they have been able to create with them across the past year. You'll see contributions from well-known community members such as Ted Brothers and Victoria's Cantina – and contributions from other collectors who felt inspired to share what this toy line means to them. Take a moment, delve deep, and enjoy some of this wonderful content which has been curated across the past year.
Row 1: imperial_spectre, darumy_photographie, dedz3c, jurassiczone, brandonjayulman
Row 2: jurassic_customs, redreid20, joshsmalone, thejurassicfever, danielr_524
Row 3: jurassic_park_fan_since93, elijahjohn1, dinoscream3232, christian_danieljp, tyrant.lizard.rex
Row 4: lego.my.stego, the_jurassic_collection, victoriascantina, baptistecoudertreviews, tedbrotherse
We also wanted to take a moment to highlight a great video that our friend Brad Jost from The Jurassic Park Podcast put together – highlighting beautifully even more of the photos and videos which collectors have shared across the past year. It's a wonderful look not only at even more Jurassic-fuelled goodness, but also a lovely reminder of the thoughts, feelings and emotions that many of us felt as we set out to hunt down these toys for the very first time. If you want to revisit those moments of excitement and bliss, then Brad perfectly retells his own first experiences with this iconic toy line. If you're a Jurassic fan, you're bound to enjoy this video!
On a personal level, I also wanted to take a moment to share some of my favourite pictures I've captured in the past year. These have been inspired, in part, by so many of you – particularly on Twitter and Instagram – who share truly motivating and creative pieces which have expired me to really experiment and grow my digital skills across the past year. This inspiration alone, I feel, is a true testament to not only the value of this beautiful toys – but also the great community who they were created for.
This toyline has also seen people inspired to re-imagine their favourite characters – with many of our friends within the community inspired to repaint their dinosaurs with film-accurate liveries and incredible attention to detail. Friend of Collect Jurassic Victoria's Cantina recently shared a beautiful repaint of Mattel's Legacy Collection T-Rex which truly is beautiful – capturing the level of detail which these wonderful toys really do hold within their sculpted details.
If you haven't seen it yet, check it out below.
We also wanted to take a moment to highlight one of our favourite Stop Motions which has been created in the wake of Mattel's toys – Indomation. Indomation is an incredibly crisp and smooth story which brings one of Ted Brother's Jurassic Repaints to life in stunning, crisp animation. It's a great way to get those creative juices flowing as we brace ourselves for even more Jurassic content to come in 2019!
Lastly, if you haven't seen Griffonbirdpress's fantastic art over on Instagram, then you really are missing out! Griffon takes great photos of Mattel figures and really works hard to create cartoons with them which are incredibly fun and quirky. I've only recently stumbled across his work but I love it – and I can't wait to see what he does next!
That sums up our article for today – looking back across a year of fantastic Mattel-inspired Jurassic content. There's been lots of amazing work shared – and it really is quite awe-inspiring to see how talented and creative so many Jurassic fans are. We really are thankful to be part of a community where there is so much raw passion and enthusiasm for this franchise – and we are incredibly excited to see what members of the community come up with next!
There is lots to look forward to – with Mattel's Indominus Rex, Brachiosaurus and more due to release later in 2019 – so it looks like year two of Mattel Jurassic World is only going to get stronger still in scope and scale!
Thank You Mattel
– From The Jurassic Collecting Community!