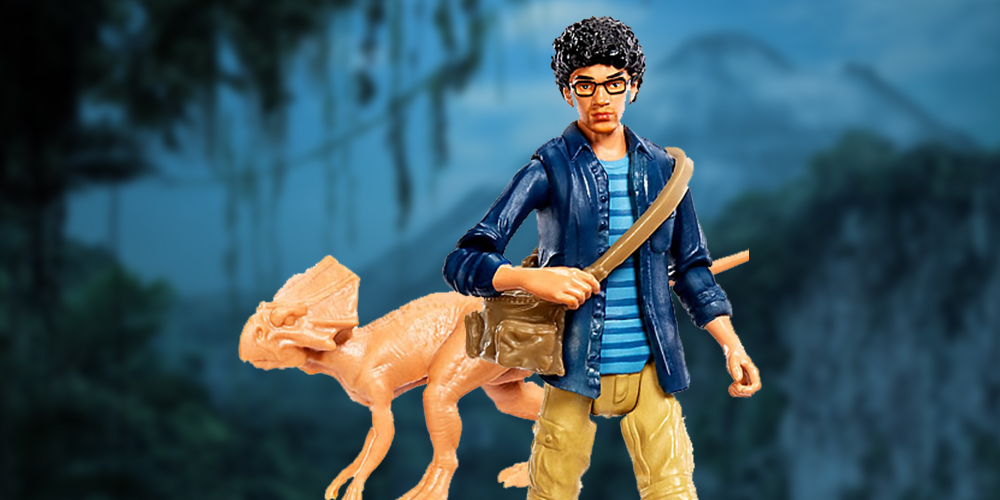 Hey Everyone – it's Tom here today and I'm very excited to be sharing a quick update on the Jurassic World Fallen Kingdom Franklin figure from our friends at Mattel.
First debuted at San Diego Comic Con back in July of 2018, there has been rampant speculation about when, and even if, Franklin's character would ever actually see the light of day. Franklin was an arguably important character within Fallen Kingdom – going hand in hand with Zia, who we already have. It felt important that we receive this figure – as I don't think the set would have quite felt complete without him. Now, in April of 2019, we finally have our first look at Franklin – who is rumoured to be the ONLY new human figure to release in 2019, alongside an assortment of different repackages from 2018's offerings, following a similar vein to the first quarter Dino Rivals human releases. Franklin looks great – with his iconic outfit represented well within the Mattel figure scale, capturing everything from his tan cargo pants to his ruffled, curly hair and glasses. This looks like a great rendition of Justice Smith for the scale it is offered at.
Franklin also comes with the Microceratus – an exciting decision as up until now, this smaller dinosaur has only ever appeared in some of the cancelled Destruct-A-Saurs sets. This has made this character incredibly illusive amongst the collecting community – so I think the inclusion of this micro character in a mainstream format was a smart decision on Mattel's behalf, and one which has me excited. Franklin's other accessory here is a satchel like we see within Fallen Kingdom, however it looks like Mattel have cut a corner here as on this figure we do see a simple re-use of Owen's food bag from the Owen Grady and Baby Blue figure which debuted in the first wave of human characters back in 2018. This is incredibly unfortunate as whilst the piece works, to a degree, the original prototype version we saw had a brand new rectangular satchel with some incredibly nice sculpted details on it which would have been a useful piece to add to the line. Still, as with much of the Dino Rivals assortment, costs have had to be cut in a non-film year, so I am grateful Mattel still found a way to squeeze Franklin out.
What do you all think of this figure, and will he be joining your collections? Furthermore – if you could introduce just one more wave of human characters, who would you choose and why? As always, sound off in the comments below, as we really appreciate your support!