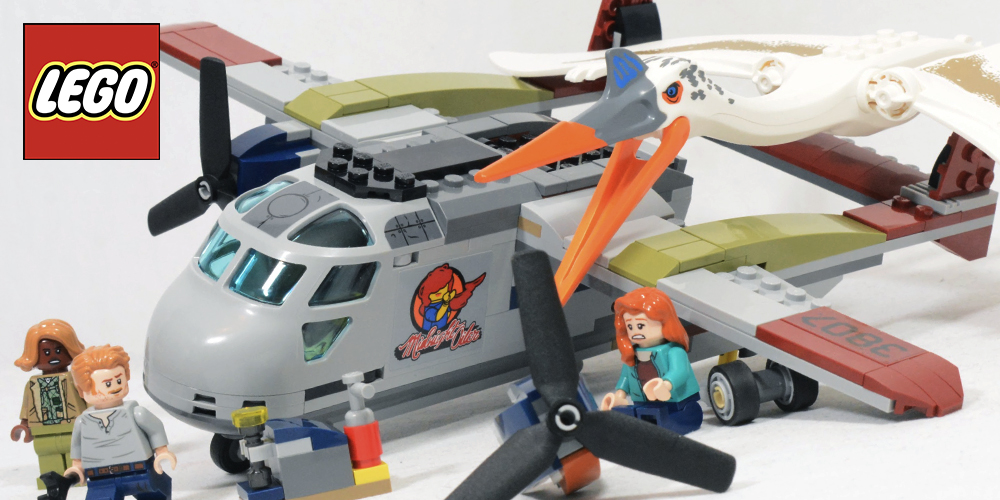 The LEGO Jurassic World Dominion sets will be debuting very soon – and ahead of their release on the 17th of April, LEGO were kind enough to send me a couple of sets to review on Jurassic Collectables.
The main set I got my hands on is LEGO Quetzalcoatlus Plane Ambush – a set which will retail for around £40 and $40, and which includes a brand-new mold for the LEGO line in the form of the giant Quetzalcoatlus.  I must admit I was very excited when this set was initially revealed, as I never expected LEGO to make a brand-new sculpt for the Quetz. The set itself feels like it has been pulled from the first trailer for Jurassic World Dominion – encapsulating one of the most climatic moments from the trailer in building brick format.
The build for Kayla's Plane is fantastic – featuring a grounded build which captures the appearance of the plane whilst also scaling it down to be more achievable within a LEGO format. I like the inclusion of the nose art on this plane, and I also think it's cool that there is so much interior space packed into this vehicle – providing plenty of play space inside. I also love the Quetz here – with a great colour scheme and a strong sculpt which contrasts itself well when compared to the plane itself, creating a real sense of scale which captures the imposing appearance of this Pterosaur in the trailer.
The set also includes minifigures of Owen Grady, Claire Dearing and Kayla Watts. Owen is a repackage from sets which have been released previously, but Claire gets a brand-new appearance here which isn't too dis-similar to other figures we have seen released of this character. Kayla gets a brand-new torso print which is packed full of detail but the hair piece isn't quite perfect here – so this is something which I may replace with another element from my own collection.
This is a fantastic set which perfectly immortalizes one of my favorite moments from the Dominion trailer. Having this in hand gets me very excited for the upcoming film – and for the rest of the sets which release later this month. Make sure to check out our video review on Jurassic Collectables, linked below, and let us know your thoughts on this set in the comments down below!