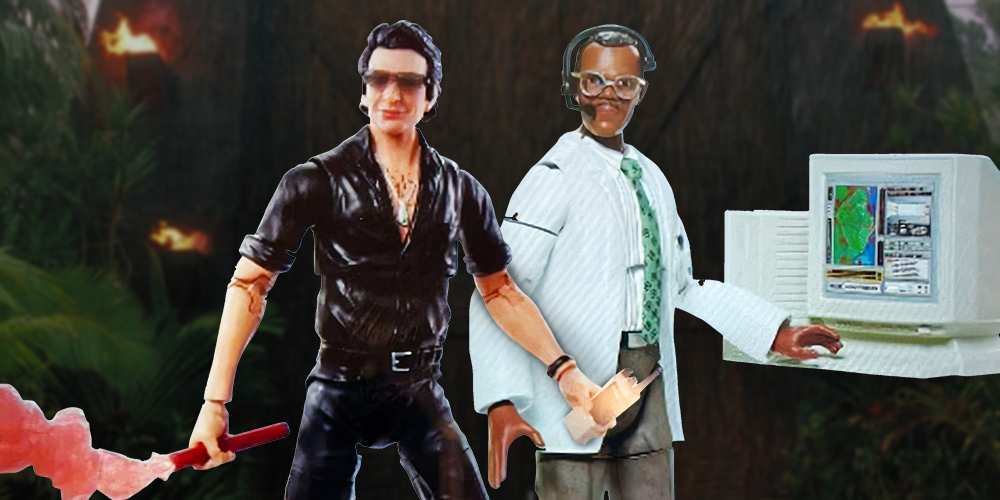 The brand-new toy reveals continue to keep coming – with our first look at Ray Arnold from Jurassic Park, alongside a second version of Dr Ian Malcolm from the 1993 film, too! These figures are slated to release at around the same time as the upcoming Pteranodon and Tiger-Stripe Velociraptor which we also debuted in a recent article – so make sure to keep your eyes peeled as they should be popping up soon!
Up first we have got the second version of Ian Malcolm – which doesn't appear to be all that different to the first version of this figure which released. The character comes in the same outfit which the first version of Jeff Goldblum's character wore – although there are some minor differences here which help to distinguish this figure from the first iteration. The shoes on this version have received more attention – with some muddy paint helping to more closely mimic the Tyrannosaurus Rex breakout sequence. Interestingly, Ian also comes with new arms – including a double-hinge joint at the elbows, and also a swivel at the bicep – adding a far more dynamic range of motion than we have seen on other Amber Collection figures to date. This is a great change which more closely mimics the original prototypes – and we are interested to see if this additional articulation will become the 'standard' moving forward.
Alongside these changes in sculpt, the only other change here is an additional accessory. Whilst this version of Malcolm includes both the flare and the glass of water which the original figure came with, we can also see that Malcolm features the Walkie Talkie which is used at many points throughout the first film – adding a nice extra accessory to be packed in with this updated release. Whilst this isn't a The Lost World: Jurassic Park version of Ian like we had hoped, it is still a nice figure – and different enough to the original to warrant a pickup.
The real shining star here is the figure of Samuel L Jackson's Ray Arnold – who appears to reuse some elements from the Dennis Nedry figure which we received recently. The coat and arms here are re-used elements from Nedry's raincoat, and it is possible that the legs are reused elements too although we can't tell for sure based on this photo. Arnold does have a nice new detail in the form of his torso – complete with green tie – and we imagine that his laboratory coat will feature the iconic Jurassic Park logo, too. Whilst the Sam Jackson likeness here feels a little more watered down and perhaps not as authentic as we were expecting, it is by no means a bad figure – and will likely look better when we finally have this one in-hand to compare to the rest of the assortment.
It is worth noting that Ray comes with some fantastic accessories – with what we can assume will be a removable headset similar to the one he uses in the control room of the Isla Nublar park, and also the desktop computer unit he uses in the control room – complete with a beautifully designed graphic which mimics the park tour programme. The level of detail packed into this action figure's accessories is fantastic – and it provides a taste of what Amber Collection is all about, which is going above and beyond on details. We can only hope that this continues as the line continues to grow in the near future.
What do you think of the two newest humans to join the Amber Collection assortment? Let us know in the comments down below, and make sure to stay tuned here on Collect Jurassic for all of your Jurassic collecting news!