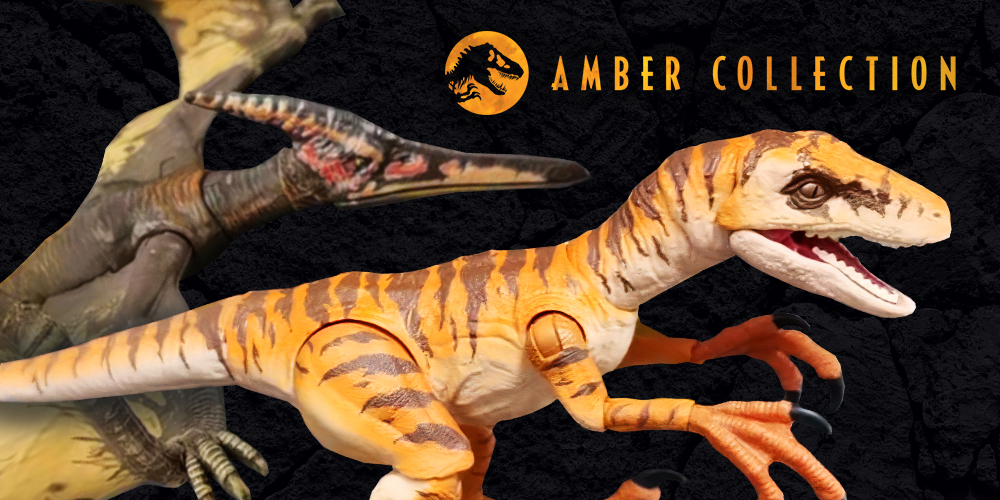 Since its initial debut with Ian Malcolm and the Velociraptor from the first Jurassic Park film, it is safe to say that the Amber Collection has grown exponentially – introducing characters and dinosaurs from the first film alongside figures from both Jurassic World and Jurassic World: Fallen Kingdom. The growth looks set to be continuing in 2021 – with two new humans and new dinosaurs recently listed on Big Bad Toy Store. Let's see what's on the horizon for the next iteration of the collector's line!
Pteranodon (Jurassic Park III)
We're starting off with most exciting reveal till – the Jurassic Park III Pteranodon, another brand-new prehistoric animal to join the Amber Collection assortment! The sculpt for the Pteranodon looks gorgeous, as you will see, and the paintwork and detail packed into this figure is top-notch, with so much attention paid to capturing the intricate patterns which adorned this animal in the saga's third outing. The sculpt is also really well realised here – with the long, angular jawline which this avian is famous for captured with an impeccable level of detail. We are really excited to get our hands on this figure – and we are excited to hear what you think, so do let us know in the comments below!
Tiger Velociraptor (The Lost World: Jurassic Park)
I think we all know how much Mattel love the Amber Collection Velociraptor mould (looking at you, Raptor Squad!), and it looks like the sculpt is going to get another outing in a brand-new deco in 2021 as we are set to receive the Tiger Velociraptor which hunts the Hunters in the long grass in The Lost World: Jurassic Park. This version of the Raptor continues to be a fan-favourite, and is a highly-demanded deco amongst collectors, so we are excited to see a more unique variant of the Velociraptor joining the Amber Collection line-up later this year!
Ian Malcolm (Ver.2/?)
Probably the least exciting version of the bunch, it appears that we have a second rendition of everyone's favourite Chaotician joining the line in the near future. Whilst the figure is listed as another version of Malcolm from the first film (sexy Goldblum anyone?!?!), we would not be surprised if this figure ends up being a variant from either The Lost World or Jurassic World: Fallen Kingdom. Whilst Malcolm is a popular character, we have to admit – it does leave a bitter taste in our mouths that we are getting a second version of the good doctor before we have got either Ellie Sattler or Claire Dearing.
Ray Arnold (Jurassic Park)
A surprise to be sure – but a welcome one! Samuel L Jackson's Ray Arnold is also set to be joining the Amber Collection line in the near future, and this is another character which we are interested to see chosen over others in the films. We're not entirely sure that they will be able to include a cigarette accessory with this figure, but we wouldn't be surprised if it includes a removable arm, and maybe even a display piece of the electric breakers for the original park given the fact that Mattel have shown a willingness to include some display pieces alongside figures in the past. It is definitely exciting to have more new characters joining the line – and we can't wait to see which humans come further down the pipeline!
That's it for our Amber Collection previews – you can bet we'll have more information, including pictures of all these figures, as soon as that information is available! We are excited to have more Amber Collection figures and are excited to have a mixture of new humans and dinosaurs joining the line-up. Hopefully this is just the start – as we would love to see more small-scale dinosaurs like Gallimimus and Stygimoloch on the line in the near future. For now, however, we want to hear from you! Let us know what you think in the comments below and stay tuned for plenty more from Collect Jurassic in the near future.
Still reading? OK. You may not have used the magic word, but we'll let you in on a secret. Whilst the Amber Collection is growing as it is, we hear that everyone's favourite Palaeontologist and also our favourite Game Warden may also be joining the line VERY soon. That's it for now – stay tuned for more as soon as we have it!