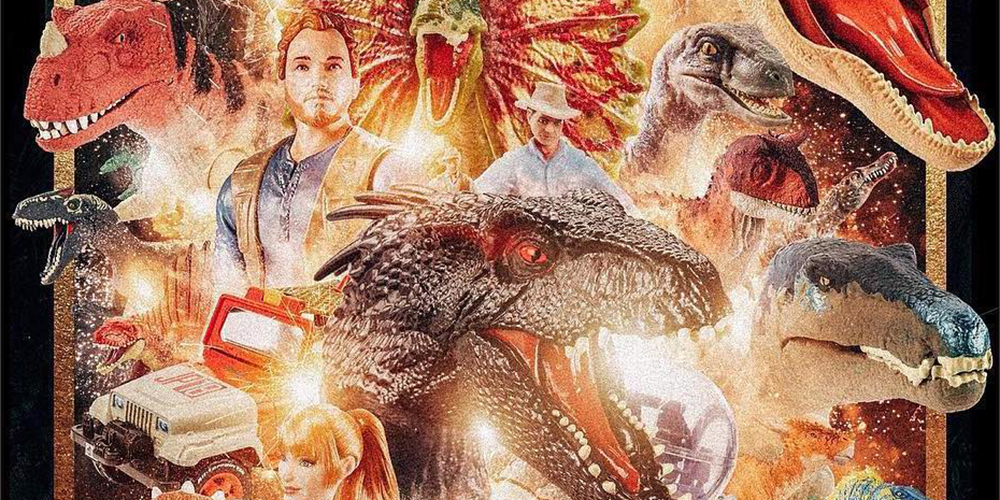 Chances are if you're a Jurassic fan and use the internet, you've most likely seen at least one of super-fan Nima Neemz Nakhshab's (nimaneemz.com & Instagram) beautiful Jurassic poster designs. Leading up to the release of Jurassic World Fallen Kingdom, he began sharing his poster designs built from screen captures from the movie's trailer—edited in his signature cinematic style. The rest, as they say, is history. Neemz was soon contacted by Universal to create an official poster for the movie, which was in-turn released to fans and collectors during a Fandango ticket promotion. He was also commissioned for the Regal Moviebill cover featuring Jurassic World Fallen Kingdom, which was distributed at the theater chain across the US.
But Neemz was just getting started. Since the release of the movie, he's released countless new poster designs via his Instagram covering every film in the franchise. Of course, our favorites were created exclusively using Mattel's Jurassic toys with stunning results. Neemz eye for composition and color-grading come through in whatever medium he's using, but the "toyified" poster designs are still a sight to behold. Naturally,  his marquee Jurassic toy poster graces the walls of the actual Mattel offices in California!
Some of his most recent work has come in the form of serial poster designs, featuring original artwork that rivals Mondo's Jurassic offerings. Neemz continues to hone his skills in 2019, experimenting with different art styles and has creating countless mash-ups between Jurassic and other iconic film franchises. We've assembled a few lot of our favorite Jurassic posters by Neemz below, but check out his Instagram for many, many more!