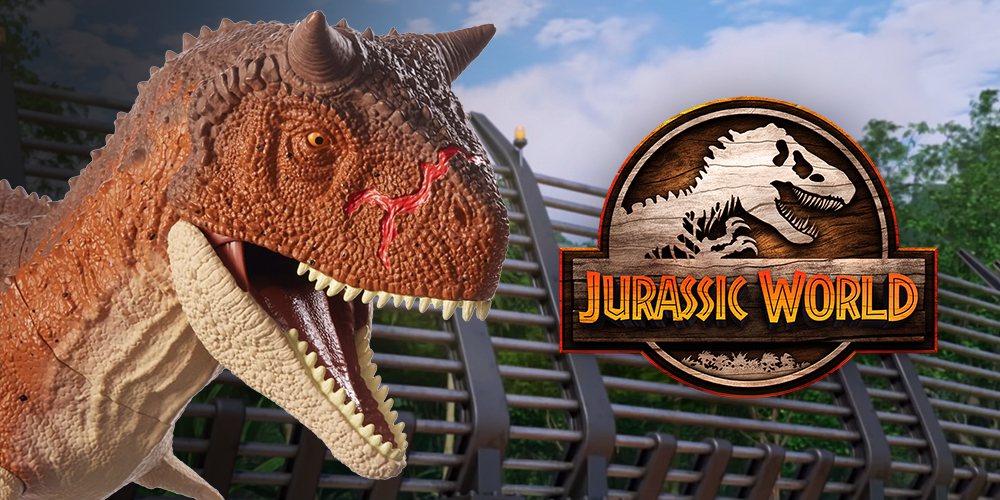 Our Jurassic toy shelves are already looking quite crowded as we head into 2021, with a dizzying amount of great-looking toys from Mattel already revealed. Netflix's animated series Jurassic World Camp Cretaceous is no doubt a big part of this latest merchandise push, as it continues to gain popularity after Season 2's debut last month. With that being said, today's huge (pun intended) toy news makes perfect sense: Carnotaurus "Toro", one of the named dinosaur characters from the series, is joining Mattel's Super Colossal line-up later this year! And like the Indominus Rex before it, this super-sized version looks absolutely incredible in these first official images.
Because of their larger size, the detail that Mattel is able to put into the Super Colossal sculpts has continued to improve since T-rex was first released in 2018. Velociraptor Blue took that detail up a notch in 2019, and last year's Indominus was a nearly perfect recreation of the dinosaur design we see on screen. 2021's Super Colossal "Toro" looks to do the same, with an all-new sculpt that differs from the 3.75″ mainline Carnotaurus toys in not just detail, but posture and proportions as well. The entire length of the body features realistic pebbly skin plus countless, small spines or spurs that are signature on this species. A longer tail on the Super Colossal Carnotaurus is a welcome improvement but smaller versions of the toy as well. But the face/head is the real star of the show, with Toro and her scar looking better than ever! Concerning the color scheme, it is a little lighter in these photos than what we see on-screen in Camp Cretaceous—thought that could be adjusted in the final production version of the figure.
Super Colossal Carnotaurus "Toro" may be one of these most exciting releases to join Mattel's large figure assortment yet, as the species has long been a Jurassic fan-favorite even before it's appearance in 2018's Jurassic World: Fallen Kingdom. While plans can change, this existing release is expected to start showing up in store and online later this summer with an expecting retail range of $50-55 USD. We can't wait to get our hands on this one, and to see what's next from Mattel. What would you like to see next in the Super Colossal range? Let us know in the comments below!