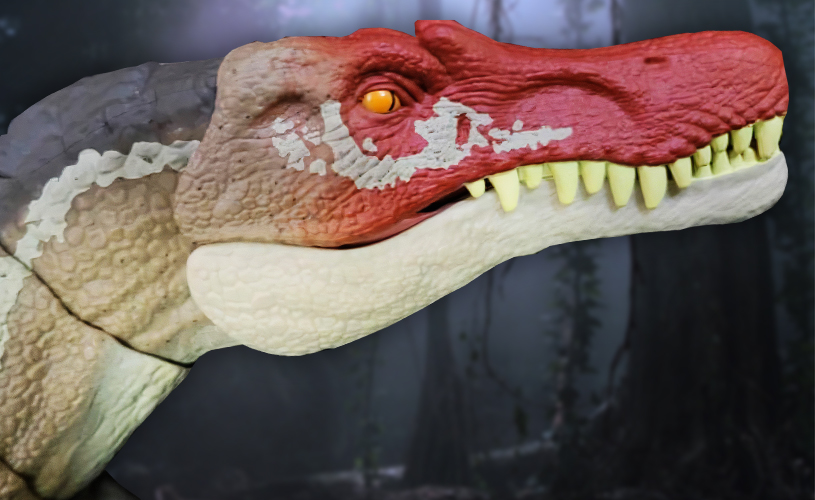 We are excited to share another look at a brand new figure which is coming in 2021 – and one which we think may be the most stunning version of this particular dinosaur which has been released to date. It is, of course, the Spinosaurus – a figure which has seen mixed releases in the past, but which looks set to correct that next year.
The Spinosaurus we see presented here appears to share the same sculpt as the Target and Smyths Legacy Collection version, but this version is adorned with many more paint applications than both the prior Legacy Collection and Battle Damage releases and is, arguably, the best rendition of this dinosaur which Mattel have released here. The core color here is tan – with dark browns used for some of the highlights along the back, including the sail, whilst some crimson colors very similar to those found on the Legacy Collection variant round out the color palette. For added details we then have white highlights around the face, the side of the figure, and also on the sail – adding a really nice range of depth to this dinosaur.
This genuinely may be my favorite figure we have seen from 2021 so far. The paint apps on the new version of the Spino feel fresh enough to me that it almost feels like a brand new figure – despite it being a repaint. This figure really is a top-tier example of how the right paint job can breathe new life into an old sculpt.
The most interesting thing to note here is the fact that this Spinosaurus, or a rendition of it, also appears in the Snap Squad lined we previewed earlier in the year – suggesting there may be more to this figure than meets the eye. Given the popularity of this dinosaur, and the fact that concept art for it does exist, we wouldn't be surprised to see this turn up in Camp Cretaceous – possibly as the main antagonist in the third season if it releases in 2021.
All speculation aside, however, it is undoubtable that the Spinosaurus remains one of the more popular larger dinosaurs to appear in the Jurassic franchise to date – so getting a new version, no matter where it originates from, is fantastic news for all of us.
With that said, we'd love to know what you think? Do you love this repaint as much as we do, or does it not quite hit the mark? Let us know in the comments below, and stay tuned to Collect Jurassic for all your Jurassic collecting news!