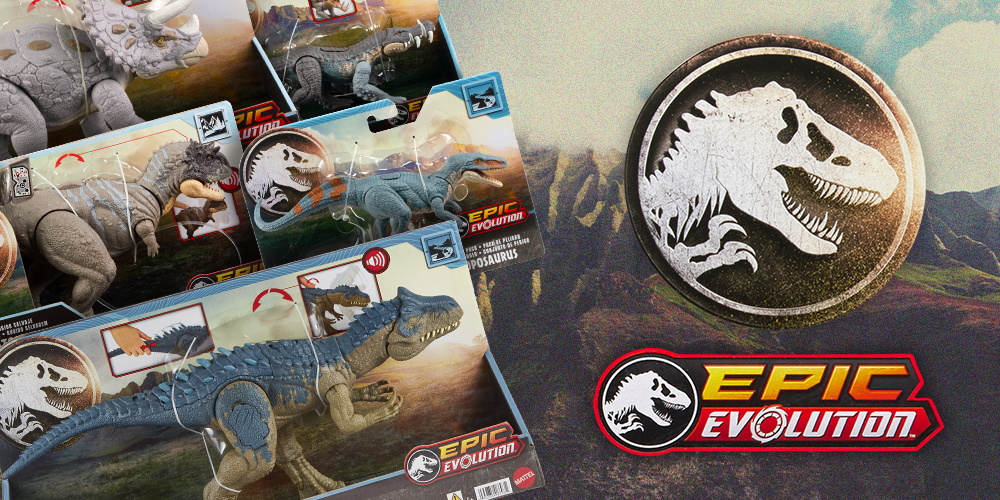 Updated 12.6.23: Links added  for Wild Roar figures.

With 2024 fast approaching, new Jurassic toys will soon be upon us! Collectors looking to get a jump-start on what comes next from Mattel's Jurassic World toy range can get a sneak-peek now at upcoming releases, including the new "Epic Evolution" theme. This fittingly named upgrade to last year's "Dino Trackers" line again features biome-inspired dinosaurs and prehistoric creatures — with a twist in the form of new play features. Fan favorite assortments like Legacy Collection and Hammond Collection are also making their return, as well as the immensely popular "93 Classic" toys created in celebration of Jurassic Park's 30th Anniversary. As for other Mattel Jurassic mainstays like the Super Colossal and "Uncaged" series, we expect more to be revealed closer to the new year.
Dive into the Jurassic World 2024 Toy Checklist below for HD image galleries for each figure assortment, and stay tuned for updated shop links from Amazon, Entertainment Earth and other major online retailers. As always, bookmark this page and check back often for the latest Jurassic toy release details! And if you're still on the hunt for last year's releases, head to the 2023 Dino Trackers Toy Checklist.
All release information subject to change.
Jump To Core Toyline:
Epic Evolution Legacy Collection Epic Attack Hammond Collection
Jump To Other Assortments:
Bite Club Mega Roar Basic
---
Epic Evolution
Danger Pack

Wave 1:
Poposaurus – Walmart*
Avaceratops – Walmart*
Plesiosaurus – Walmart*
Eoraptor vs. Stegouros – Walmart*
Wave 2:
Kileskus – Coming Soon
Craterosaurus – Coming Soon
Velociraptor (The Lost World) – Coming Soon

Wave ?:
Apatosaurus – Coming Soon
Rauisuchus – Coming Soon
Dimorphodon – Coming Soon
Gallimimus – Coming Soon
Guanlong vs. Lystrosaurus – Coming Soon

Strike Attack

Wave 1:
Kaprosuchus – Amazon* | Walmart*
Tuojiangosaurus – Amazon* | Walmart*
Guaibasaurus – Amazon* | Walmart*
Velociraptor – Amazon* | Walmart*

Wave ?
Chasmosaurus – Coming Soon
Dilophosaurus – Coming Soon
Monolophosaurus – Coming Soon
Gastonia – Coming Soon
Wild Roar

Wave 1
Ekrixinatosaurus – Amazon*
Gryposuchus – Coming Soon
Megalosaurus – Coming Soon
Hesperosaurus –Amazon*
Wave ?
Ceratosaurus – Coming Soon
Parasaurolophus – Coming Soon
Pachyrhinosaurus – Coming Soon
Majungasaurus – Coming Soon
Gigantic Tracker

Wave 1:
Neovenator – Coming Soon
Triceratops – Coming Soon

Wave ?:
Bajadasaurus – Coming Soon
Mapusaurus – Coming Soon
Ruthless Rampage Allosaurus

Allosaurus – Walmart*
Vehicles

Mission Mayhem Truck Set – Amazon*
Figure Packs

Velociraptor "Blue" & Dimetrodon – Coming Soon
Back to Top
Legacy Collection
Playsets
Barry Sembène ATV Chase Pack – Coming Soon
Isla Sorna Expedition Pack – Target (Exclusive)
Back to Top
Epic Attack
Basic Dinosaurs
Pyroraptor – Coming Soon
Herrasaurus – Coming Soon
Chomp Back Baryonyx
Baryonyx – Coming Soon
Back to Top
Hammond Collection
Small Figures

Velociraptor Blue – Amazon* | Target
Owen Grady – Amazon*| Target
Dimetrodon – Amazon*
Large Figures

Carnotaurus – Amazon* | Target
Back to Top
Bite Club
Dinosaurs

Tyrannosaurus Rex – Amazon*
Velociraptor "Blue" – Amazon*
Triceratops – Amazon*
Back to Top
Mega Roar
Dinosaurs

Velociraptor "Blue" – Amazon*
Back to Top
Basic
12-inch

Suchomimus – Amazon*
Yangchuanosaurus – Amazon*
Back to Top
*Websites like Amazon and Walmart also contain third-party marketplaces which auto-populate product pages when the item is not in stock directly from the retailer. These listings may contain prices above the suggested retail price of the item. Usually, when the item goes back into stock the product page will show the correct price, as well as the item shipping directly from Amazon or Walmart. Just keep checking, similar to "Out of Stock" pages on Target and Entertainment Earth.