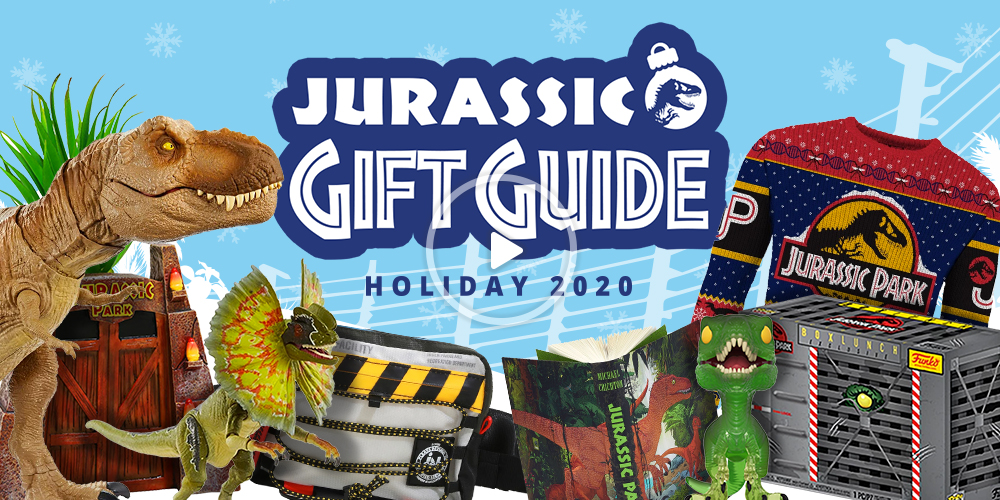 The holidays are almost here, and while there's no snow in the forecast for the humid jungles of Isla Nublar, there's still plenty of Jurassic yuletide cheer to go around. Following up on the success of last year's Jurassic Gift Guide, Collect Jurassic has returned this season with with a fresh sleigh-load of all things Jurassic Park and Jurassic World for your gift-giving (and receiving) needs. For 2020, we've added some exciting new categories filled with all-new toys, collectibles, apparel and more — each specially curated for the many varieties of Jurassic fandom.
Shop everything from action figures based on Netflix's breakout hit Camp Cretaceous to vintage-inspired merchandise from the original Jurassic Park film, with direct links to trusted online retails like Amazon, Target, BoxLunch Gifts and more. Select a category below and starting finding the perfect gift for your Jurassic wishlist!
Jurassic Park Purist Camp Cretaceous Superfan Jurassic Fashion Forward Collector Set Connoisseur Holiday Decorasaurus Collect Jurassic's Top Gifts
---


That first park really was legit, as is all of the excellent official Jurassic Park merchandise that's available now for the discerning fan. Truly unique pieces like the iconic Jurassic Park gates made into a succulent planter or the Jeep license plate-inspired pencil case offer some creative ways to inject everyone's favorite film into everyday life. And regardless of age, the Legacy Collection action figure set (Watch Review) is an instant classic with it's toy versions of John Hammond, Ellie Sattler, Raptors and — yes — the "When Dinosaurs Ruled the Earth" banner. The latest offerings from collectible company Fanattik round out the list with their clever Opening Weekend pennant flag and drink coaster releases.
Shop Now at the links below:

After months of anticipation, Jurassic World Camp Cretaceous roared onto Netflix in September and brought with it an entire stampede of toys from Mattel — including some of this year's most popular action-figure releases. The all-new Epic Roarin' T-rex (Watch Review) looks to be one of the top toys of the holiday season, and with good reason thanks to it's super-fun action features. Toy lovers can also go BIG with the fantastically detailed Super Colossal Indominus Rex, or much, much smaller with Mini Dino set. It features 10 unique figures based on the many species portrayed in the animated show. In addition to toys, Camp Cretaceous fans can dive deeper into the story in Volume One of the official novelization or show off their love for baby Bumpy in an official "Cuddle Bumps" t-shirt.
Shop Now at the links below:

It's easy to step out in style as a Jurassic fan, as there's always been an abundance of awesome apparel inspired by the films. This year's selection however, truly raises the bar on fashion-friendly Jurassic wearables with items like the retailer-exclusive "Isla Nublar Facility" Backpack and Fanny Pack. While not overtly branded with film imagery, these functional accessories include plenty of subtle callbacks to Jurassic Park and Jurassic World. And don't miss the JP93 Dilophosaurus t-shirt, with a unique retro-illustration design that compliments the (very vibrant) Jurassic Park crew socks quite well. Of course, it wouldn't be a 2020 Gift Guide without including face masks — we've literally got you covered with plenty of official Jurassic designs to choose from via BoxLunch Gifts.
Shop Now at the links below:

Boxed collector sets: not only do they make great one-stop-shop presents, they're also typically easy to gift wrap, too! And the Jurassic franchise has bred countless options for consideration, packed with everything from Funko Pop! figures to collectible enamel pins. Keep it classic with the Limited Edition Lithograph set featuring 5 iconic still frames from Jurassic Park, or go all out with the Jurassic World Deluxe 10-piece Welcome Kit that includes an authentic park ticket and other in-universe goodies. Looksee's Gift Box should't be missed either, as it contains several one-of-a-kind collectibles tucked inside a nifty (and useful) Jurassic Park storage bin.
Shop Now at the links below:

Have yourself a merry little Rexmas with these seasonal selections of Jurassic-based decor and clothing. Santa should get the memo when he sees official Jurassic World stockings above the fireplace on Christmas Eve, though adorning the tree with Hallmark's new Velociraptor Blue ornament may help drive the point home. Even at it's modest price point, it packs lots of detail into a fairly faithful representation of Jurassic World's heroic raptor. And it wouldn't be a proper holiday without a Jurassic Park knit sweater, guaranteed to standout at any Ugly Sweater party this year (even on Zoom)! For the low-effort Jurassic fan who still wants to look ferociously festive, the Merry Rexmas shirt offers a shot-sleeve alternative that still gets the job done.
Shop Now at the links below:
Rounding out this year's Gift Guide is Collect Jurassic's best-of-the-best gifting recommendations, featuring our favorite finds across a wide variety of collecting categories. All-new, original artwork inspired by Jurassic Park is definitely a running trend here — the Folio Society's Jurassic Park illustrated edition of the foundational novel by Michael Crichton is a visual masterpiece (Watch Review), as is Mondo's Unmatched Jurassic Park board game. In addition to being an absolute blast to play, Unmatched Jurassic Park boasts detailed miniature figures and other gorgeously rendered game pieces. Artistry is also at play in BoxLunch Gift's "Back To Life" T-shirt, boasting a unique design that leverages Jurassic's emblematic rex skeleton silhouette. And when it comes to toys, there's no topping Mattel's Amber Collection series and it's most recent releases like Dilophosaurus (Watch Review). With an interchangeable frill and the infamous East Dock sign as accessories, this latest toy version of the "Spitter" is one of the best to date. Speaking of amber, there's no Jurassic collection that is complete without the official Mosquito in Amber replica. It may not contain actual dinosaur DNA, but it makes an excellent paperweight and looks great doing so.
Shop Now at the links below:
---
We hope you enjoyed this winter wonderland tour of this holiday season's impressive array of Jurassic gifting ideas. Whether it's tracking down a giant Indominus Rex toy for under the tree or outfitting yourself in a head-to-toe Jurassic outfit, we wish happy hunting to all! And to all a good night.