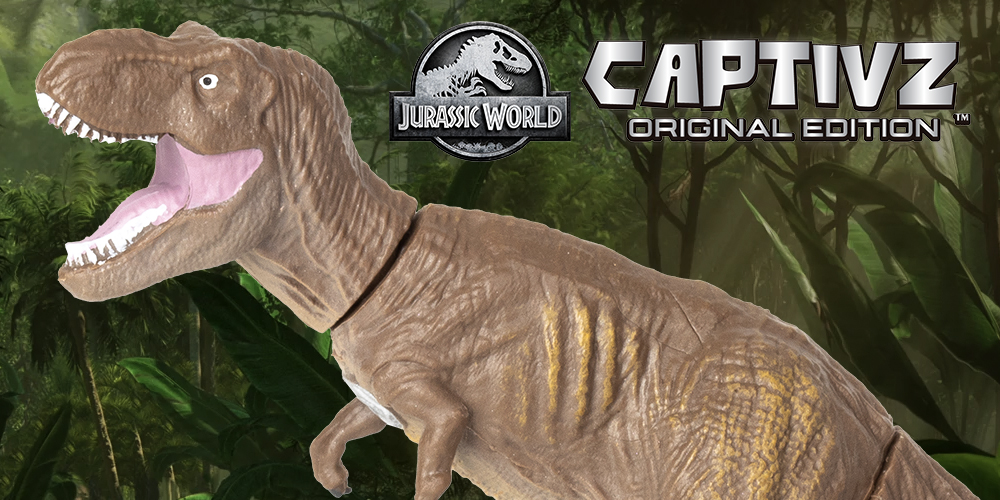 Today on Collect Jurassic, we're thrilled to be highlighting an all-new Jurassic toy line on the way from Toy Monster. Jurassic World Captivz 'Original Edition' is a an assortment of smaller-scale dinosaur figures from the Jurassic films, debuting exclusively in Australia this month. We'll get further into international availability later down in the article, but we're happy to report that Toy Monster is working towards an international rollout for subsequent Captivz waves in the near future.
Let's start with the basics. Captivz are small scale dinosaur figurines which are about two inches in size. The standard line of Captivz figures will come in collectible slime eggs emulating the dinosaur eggs we saw in the Hammond Creation Lab in Jurassic World, with a random chance as to which dinosaur you will get inside of each egg. Think of these as similar to Mattel's Collectible blind-bag series, but with considerably more detailed paint applications sure to please collectors and unique packaging which younger Jurassic fans will enjoy as well.
The team at Toy Monster is working on a 'Collector Guide' for the program of toys, in addition to keeping track of feedback in the community to ensure that the line is of a depth and quality which Jurassic fans have come to expect. For example, they've already assured Collect Jurassic that they are working on running changes to improve the quality on some figures, like a fix with their Velociraptor Delta looking like Echo alongside other running changes. The team are keen to get this right, and are working hard behind the scenes to ensure that these toys are authentic – which is a great level of commitment for figures so diminutive in size!
There will also be a Collector Case releasing alongside the line of blind eggs, and this case will include a unique figure – the Indominus Rex. This hybrid is obviously synonymous with the modern-day Jurassic World franchise, so we are excited to see what format the Collector Case takes, and to get our hands on it in the near future!
As you can see from the photos included from Toy Monster, Jurassic World Captivz is made up of some truly unique figurines which I am sure will be popular with franchise fans who are looking for new, smaller-scale dinosaurs which they can display on a shelf or an office desk. We really love the attention to detail at this scale, and are excited to see the toy line continue to grow and expand in the coming months.
Most importantly for those of us outside of Australia, Toy Monster is hinting at a wider international availability in Spring of 2021 – so do stay tuned for more news when we can share it.
What do you think of the new line? Are you excited to get your hands on it? Will you be trying to track them all down? Let us know what you think in the comments below, and stay tuned to Collect Jurassic for all the latest Jurassic collecting news as soon as we have it!