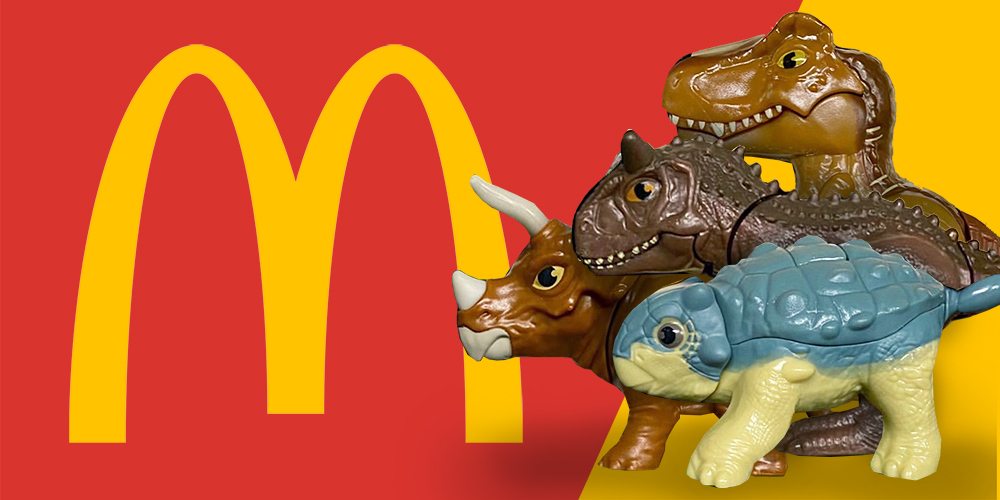 Update: According to the official McDonald's press release, the four books will be released first, followed by the dinosaur figures with eggs on September 15.
Universal Pictures & Netflix have partnered up with fast-food giant McDonalds to mark the arrival of their brand-new animated series Camp Cretaceous, new photographs of an upcoming McDonalds Happy Meal Promotion have revealed.
The partnership will see Happy Meal boxes adorned with Camp Cretaceous branding – including the iconic gates which we have seen used across the branding for the new series up to this point. Alongside the branded Happy Meal boxes will come a series of four dinosaur figures – including the Tyrannosaurus Rex, Bumpy the Baby Ankylosaurus, Toro the Carnotaurus and a Triceratops. Each of these figures appears to have a feature packed into it, so we wouldn't be surprised if these dinosaurs embrace the best of Jurassic by packing-in roaring features.
Alongside the dinosaur toys, kids will be treated to one of four books which explores the Dinosaurs which appear within the upcoming show. These include 'Horned Dinosaurs', 'Ferocious Dinosaurs', 'Armored Dinosaurs' and 'Big Dinosaurs' – and each book seems to be packed with renders from the upcoming cartoon. Although we are doubtful that these books will be particularly in-depth inclusions, it is still nice to see the Jurassic franchise embracing the animals and creatures who have formed its extensive legacy – really re-investing in the idea that this franchise can inspire future generations of palaeontologists.
It is fun to note that this isn't the first time the Jurassic franchise has partnered up with the fast food giant – with advertisements back in 1993 emphasising the release of the new blockbuster, and introducing a brand-new 'dino-sized' value meal at the time. It is fun to see a call-back to the way the franchise was originally advertised as we begin a new-era of the Jurassic franchise with projects now arriving on the small screen.
What do you think of this new partnership? Will you be tracking down these unique happy meal items to add to your collection? Or are you just excited to see Jurassic back in the limelight with such a broad and expansive marketing campaign?
Let us know in the comments below, and stay tuned to Collect Jurassic for the best news on Jurassic merchandise.