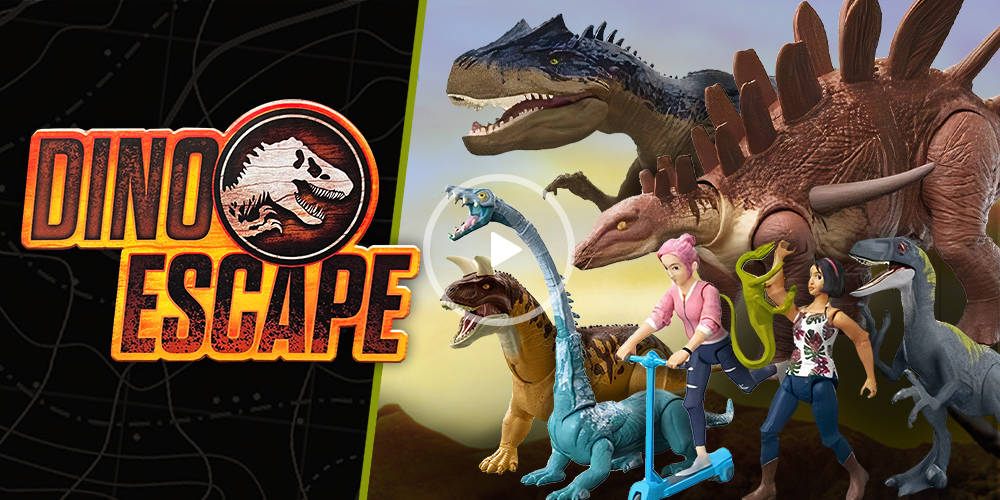 This year's Jurassic World assortments have already got off to a pretty strong start – with an assortment of brand new animals and sculpts introduced throughout the year. It looks like we are going to end 2021 and move into 2022 with a bang as we have a look at the next new additions to the collection from Mattel. Let's take a closer look at some of the repaints and new sculpts which we believe are set to round out the Dino Escape and Camp Cretaceous assortments for 2021 into 2022! Note: Images have been enhanced to show detail, some distortion may be visible but does not reflect the final design.
Up first we have some new Wild Packs – kicking this off with a gorgeous repaint of the Rhamphorhynchus. This figure has some gorgeous orange, black and grey colours – creating an almost hazard-esque colour tone which I really adore. Alongside this repaint we also have a repaint of the rarer Mononykus sculpt – which has only seen one other release to date. This repaint uses an interesting red, white and brown colour scheme which we are excited to see a better look at.
We also get a repainted version of the Velociraptor which possibly appears to be Delta given the colour scheme present here. It's interesting to see that Mattel may be continuing to explore different versions of the Raptor Squad given we recently received a four-pack as a part of The Legacy Collection. Lastly, we have the Shringasaurus – a brand new and unique animal added to this wave. I love how unique this animal looks, with the horns and the face looking really distinctive. I am very excited to be able to add this new animal to my collection in the near future.
On the Fierce Force front we also have an assortment of repaints – including a gorgeous new version of the Styracosaurus. This figure looks great in its slightly darker and more earthy tones – with plenty of detail packed in with yellows and oranges on the crest. This animal continues to be a hit with fans so we'll bet it'll be a popular release. The Styracosaurus is complimented by a gorgeous Masiakasaurus – in a very unique colour scheme when compared to the prior release. This is a great figure and I think the crimson colours here call back to the Battle Damaged Proceratosaurus nicely.
We also have a new addition to the Camp Cretaceous assortment here – with a brand-new version of the Monolophosaurus released in this wave. Whilst we've seen this sculpt pretty frequently at this point, the repaint still looks great – with the dark and light greens complimenting each other well. This is a nice version of the Monolophosaurus. Lastly, but my no means least, we have the Tanystropheus – a brand new addition to the assortment. The long neck and jagged jaws of this animal make for a really unique addition to our collections – and we really like the more aquatic colour scheme on show here.
We have a couple of additional repaints releasing on the Roar Attack front – with a reuse of the Ceratosaurus mould from Camp Cretaceous in a much darker green and black colour scheme. This is a really interesting version of the Ceratosaurus – departing from what we have seen beforehand in interesting ways. Alongside this repaint we also have a repaint of the Allosaurus – this one appearing to have the Battle At Big Rock colours. We believe this is the same sculpt as the Green and White Allosaurus releasing soon – meaning Mattel decided to make up for past sculpt problems with the original BABR Allosaurus by repainting the new sculpt in the same style.
We do also get the inclusion of a brand-new sculpt in the form of the Kentrosaurus – a gorgeous animal which we are glad to add to our collections. The combine spikes and plates on this animal look fantastic, and we like the flesh colours showing through the browns and light purples here. Whilst this isn't the best colour scheme we've seen, we're still very excited to add a new herbivore to our collections – and we're grateful that Mattel continue to invest in interesting new sculpts for us all to enjoy.
We are delighted to share that the Jurassic Camper packs are returning – giving us the rest of the Camp Cretaceous crew for our collections. At the front we have a repackage of Darius with a repaint of the Baby Brachiosaurus – this time coming in a dark green colour scheme. Darius appears to be an exact repackage from his prior releases, and he includes the Velociraptor Resonating Chamber – although this figure does include a new accessory in the form of some Night Vision Goggles, too. These appear to be a different sculpt than the ones included in the Legacy Collection Ford Explorer, which is a really welcome addition.
We also get both of the remaining campers added to our collections which is incredibly excited. The first, Sammy, comes in her iconic flower shirt and can be seen facing off against a Velociraptor. We don't think this confirms Sammy will fight a Raptor in Season 4 – but, rather, it appears this pack takes inspiration from other elements in the Camp Cretaceous sandbox. We also get two Compsognathus included here too – with both appearing to be recolours which is fantastic. Brooklynn, on the other hand, is squaring off against a Monolophosaurus in a scene which feels pulled straight from Season 2 of the show. Brooklynn looks fantastic here, and it appears she also includes the scooter included in the pack with Kenji – providing a great pack-in for people who missed that pack. All of the Camper Packs look fantastic and we are incredibly grateful to Mattel for giving us a chance to own the main characters from the show.
Overall, we are really excited for the upcoming offerings from Mattel. We have some fantastic repaints, some great new sculpts, and crucially, we get the rest of the Campers who we have eagerly been awaiting. We can't wait to get our hands on these toys in the near future – and are looking forward to seeing their final depictions soon.
That's all for now – but what do you think? Let us know your thoughts in the comments below, and stay tuned to Collect Jurassic for all of your Jurassic collecting news.