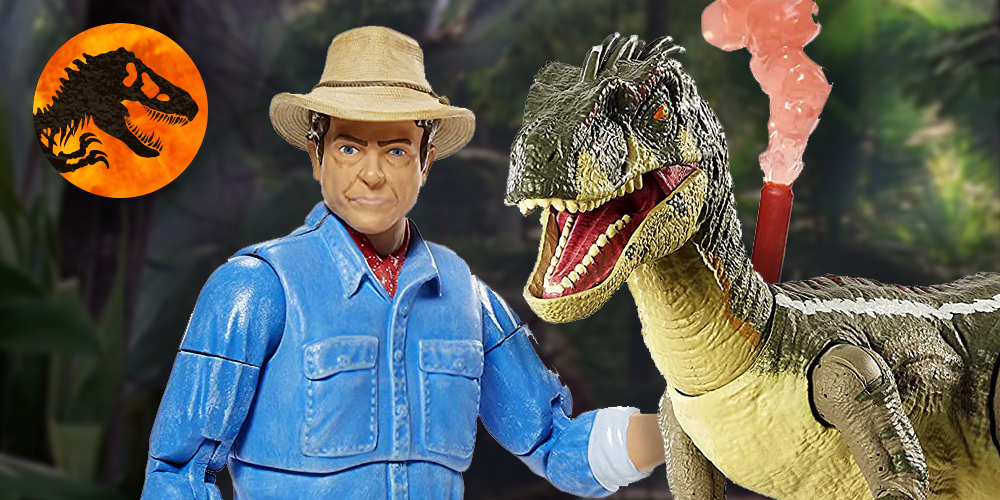 "Alan!"
No, that's not a talking Velociraptor inside an aeroplane above Isla Sorna. That was our reaction to initially seeing this brand new wave of characters joining the rapidly expanding Amber Collection assortment later this year. We've seen a fantastic wealth of classic Jurassic Park characters added to the assortment throughout 2021, and this wave is no different, with everyone's favourite palaeontologist joining the assortment – alongside a retool of the Velociraptor to better represent the male Velociraptor seen in Jurassic Park III.
Both of these figures have been highly anticipated by collectors since they were first rumoured, so let's jump in and take a closer look at both of them now.
The most anticipated addition this time around has to be Alan Grant – and we've got to be honest. We're excited for this figure and to finally have Grant to display alongside both Malcolm and Sattler, but this is another case of the Amber Collection likenesses not quite nailing what they are aiming to look like. The hatless head looks a little bit more like Sam Neill, but overall, this is definitely one of the weaker likenesses we have received in the collection so far. With that said, the paintwork across the figure's clothing looks really good, and it is possible that the likeness will look better in the final product. Alongside the hatless head we also get a hand holding a Velociraptor Claw, a flare, a pair of sunglasses and an alternate hand. It's great to see the trend of multiple accessories continuing, and we're excited to see Grant in-person when he releases later this year.
Alongside Grant we get the Jurassic Park III Velociraptor – who featured a brand-new, retooled head sculpt to incorporate the quills which give this animal it's unique identity in the third entry of the saga. The paintwork on this figure looks fantastic – with lots of additional applications across the arms, legs and the body to really capture the unique appearance of this animal within the film. The head sculpt looks really good too – with the tighter eye here capturing perfectly the signature snarling look which we see from Velociraptors throughout the third film. Whilst some of the colours feel a little bit off to me personally, I still think that this is a fantastic figure – and the breadth and depth of paint applications combined with the new head sculpt really help to alleviate the Raptor fatigue which we have been feeling. This is a very welcome addition!
That's it for today's article – just two new figures, but two which we are excited to see getting a release. It's safe to say that the Amber Collection has really gone from strength to strength across the past year, so we are really excited to see how it grows and expands alongside the launch of Jurassic World Dominion in 2022.
As always, we'd love to hear from you! Share your thoughts in the comments down below, and stay tuned to Collect Jurassic as the one-stop resource for all of your Jurassic collecting news.