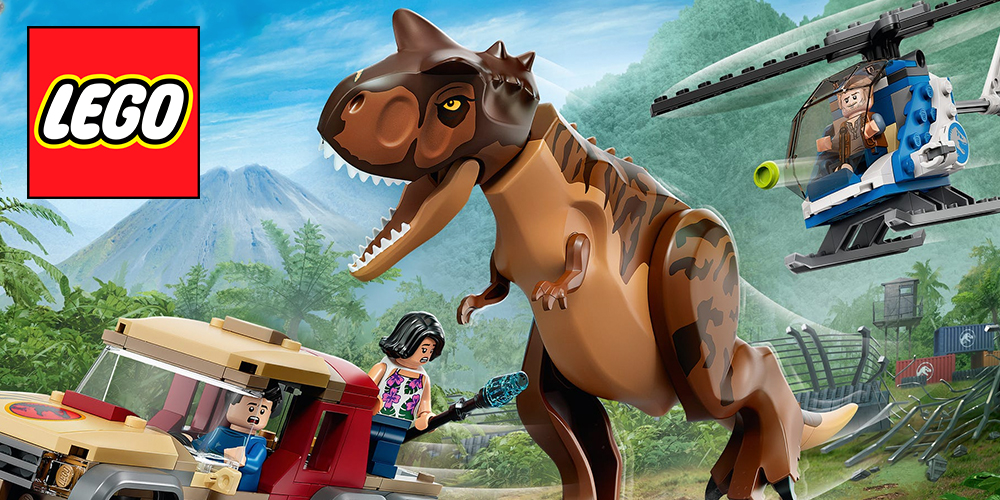 It's the first day of Jurassic June and the month has already got off to a roar-some start – with the reveal of four brand-new LEGO Jurassic World sets which take inspiration from Jurassic World Camp Cretaceous. There are some interesting sets here – so let's break them down and share our thoughts on them!
Coming in at the $29.99 is the T.Rex Dinosaur Fossil Exhibition set – a set which I personally really appreciate for how quirky it is. This feels like the perfect blend of the Exclusive T.Rex released in 2018 and the recent LEGO Ideas Dinosaur Fossil set – creating a really fun playset which enables people who missed out on those sets to still get their hands on the iconic Tyrannosaurus Rex skeleton. The best element here, in my opinion, is the printed T-Rex head – which uses the existing sculpt and gives it a fossil-type deco. The recoloured Baby Triceratops work well, and the inclusion of Darius is nice too. Combine this with some great stickers and, in our opinion, you have a fantastic thirty dollar set!
Up next, at $39.99, we have the Stygimoloch Dinosaur Escape – the only 4+ set to be included in this assortment. This set includes Ben and Brooklynn, giving us a couple more of the Camp Cretaceous cast, and also includes a nice re-colour of the Stygimoloch alongside a small Baby Ankylosaurus which we would argue is absolutely meant to resemble Bumpy from the show. Throw in the nice build of the Jeep – here with more classic Jurassic Park colours present – and you have a really nice set with some fun elements packed in. I've never bought many of the 4+ LEGO sets but this is one which I will definitely be picking up for the minifigures alone.
Following on from this at the $49.99 price point we have the Carnotaurus Dinosaur Chase – a great set which includes the iconic Camp Cretaceous six-by-six which we have seen so much of in the show. I can already picture MOC builders re-colouring this particular build to create the version we see with the ACU in Jurassic World. This set also comes with a really nice build for a Jurassic World helicopter. I'm usually not a fan of them including builds like these when something like fencing could be included instead, but I have to admit that the build for Owen's Helicopter has a fantastic finish. We also get Sammy and Kenji – alongside a recolour of the Carnotaurus which appears to take some inspiration from Toro, although it isn't named as this animal on the box art. This brings another interesting detail to the forefront too – as none of these sets feature Camp Cretaceous branding, but, rather, feature the more traditional generic JW branding. Overall this is a nice set and is probably my favourite of the four releasing in this year's assortment!
Lastly, at the $79.99 price point we have the Baryonyx Dinosaur Boat Escape – an interesting set which marks the first large-scale boat we have seen released as a part of the Jurassic World line. We've got to be honest – the build for the boat isn't the best, with space on it looking fairly restrictive due to the hull piece which LEGO chose to use here – although it does appear to have an interesting capture mechanism for the Baryonyx. On the subject of the Baryonyx – this animal clearly takes inspiration from Grim in Season 2 of the show but the likeness isn't quite there, which is unfortunate as this would've been a cool inclusion. The exclusive minifigure in this set is Yaz – meaning that fans will need to buy three of the four sets to get all the Campers since this set includes Darius too. A couple of smaller builds and some other elements make this a fun set – but definitely not the best build we've seen in the Jurassic line in my opinion.
To conclude – we are incredibly happy with these LEGO Jurassic World Camp Cretaceous inspired sets. Whilst some elements leave a little to be desired, getting ALL of the Campers from the show is a very welcome treat, and something which we didn't expect LEGO to do. There are some really fun builds across this line too – and some great recolours of pre-existing dinosaurs to keep everything feeling fresh and new. As a 'filler' wave ahead of Jurassic World Dominion this wave does a good job of quenching our thirst for more LEGO whilst also getting us more excited for what may be on the horizon.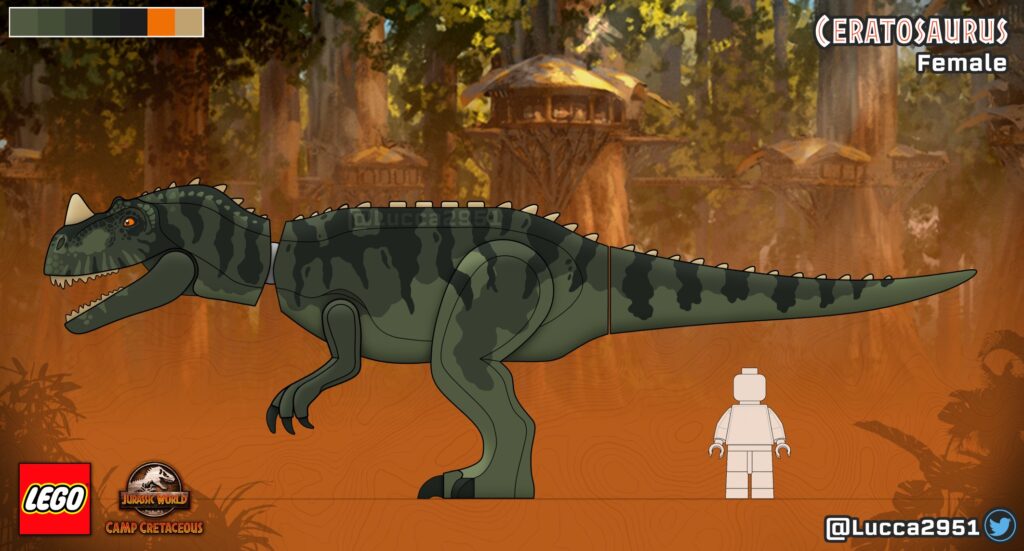 We wanted to end this article with a special shout-out to our friend @Lucca2951 who recently shared some new Camp Cretaceous LEGO artwork in the form of the Female Ceratosaurus. We are promised that there is LOTS more to come in the future – so make sure to click here to follow Lucca so you can see their next LEGO designs!
That's all from us – keep building, and happy Jurassic June from all the team here at Collect Jurassic!