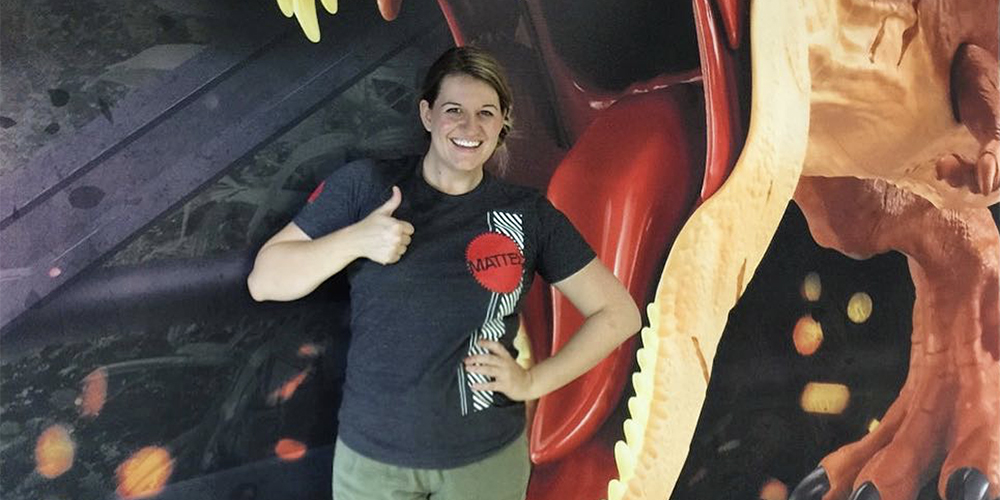 If you've been closely following Mattel's Jurassic World toy community since the figures first hit last summer, you undoubtedly know of Britt Shotts. Acting as the Jurassic World Marketing Manager for Mattel during the development and release of their award-winning toyline, Britt has not only been instrumental in breathing life back into Jurassic collecting but has also has served as a legendary brand stalwart along the way.
That that kind of dedication and passion evidently hasn't gone unnoticed, as Britt announced yesterday that she is moving on from the Jurassic World team to hopefully bigger and better opportunities. This is definitely bittersweet news for the collecting community, as her sneak peeks and insight into Mattel's plans for the toyline were unprecedented in the toy collecting community even outside of Jurassic.
Personally, Britt has been immensely supportive of our mission here on Collect Jurassic and I was fortunate enough to talk toys with her on a few occasions. It goes without saying that she will be missed. Please join Collect Jurassic in wishing Britt the best luck on her future endeavors, as well as a huge thank you for her contributions to Jurassic toy collecting!
We're including her full announcement below:
this is probably going to come as a shock to a lot of people, but today is actually my last day working on the jurassic toy line. also, before anyone starts thinking this is an april fools' joke, i debated saving this post for tomorrow but kind of enjoyed the irony of making a big (and very real) announcement on a day people typically reserve for big (and very fake) announcements. but i digress. to say these past two and a half years have been life-changing is an understatement of brachiosaurus-sized proportions – i truly found myself on this brand, and i found my people. my team is my family, and i continue to be so incredibly proud of what we built together. i'm thankful i get to continue working beside them, if not directly with them, as i'm given the opportunity to advance my career and take on new challenges in the action figure team, outside the realm of jurassic world. …. which brings me to you guys! i know there are many who follow this account to get a glimpse into the work i do on jurassic, and as such, i totally understand if you choose not to follow moving forward – it makes complete sense. that said, i can't believe how many new people i've been able to connect with because of this job, and i do still intend to be somewhat active in the community, as a fellow fan, if not necessarily as the brand manager ?. i can't thank you all enough for the way you've embraced these toys, and allowed me to participate in this amazing community you've built. with a couple of rare exceptions, every single one of you has been so welcoming, so enthusiastic, so open and accepting – of me, my team, and your fellow collectors. it's been a pleasure, guys and gals. – britt