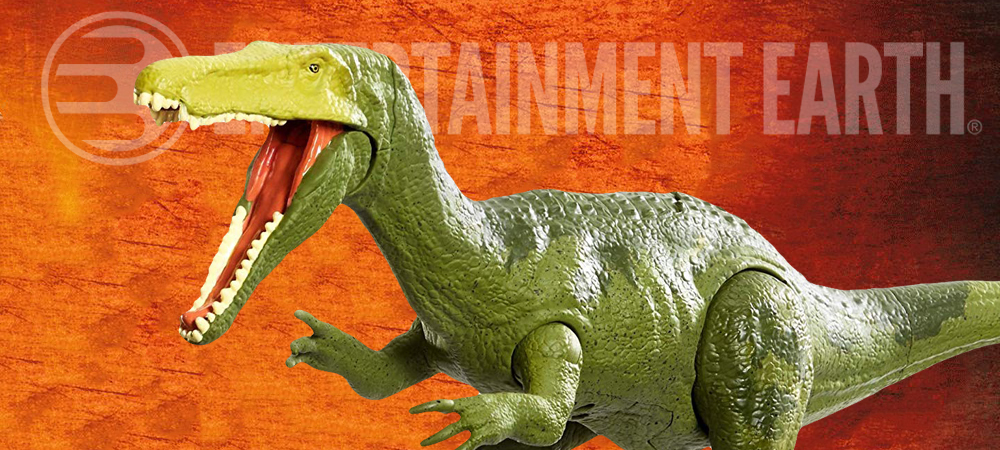 The online toy and collectibles retailer Entertainment Earth has added even more early preorders to its site after it moved the ship date for the Destroy 'N Devour Indominus Rex up 2 months earlier this week. New listings for the upcoming Savage Strike Wave 3 figures and the redeco'd Roarivores are all live, with some shipping early in May.
Even better, Entertainment Earth has made all of these figures available for individual order at their actual retail price! They still offer the case packs with a slight mark-up if that is your preferred route for getting case-fresh toys, but having the option to pick and choose releases from each case at their base price is an excellent option now too.
Also added with this latest batch are individual and case pack order pages for previously released figures like Savage Strike Tapejara and Dimetrodon, as wall as hard-to-find original releases like Roarivores Baryonyx and Allosaurus. Both sets of figures can command higher prices due to their rarity, so having the ability to buy them at retail price through Entertainment Earth is more great news.
Without further ado, below we've gathered the list below of the newest 2019 preorders. Head over to Entertainment Earth's Jurassic Page for even more listings, too!
Individual Preorders

Roarivores Baryonyx Color Version 2 Figure
Now Shipping May 2019
PREORDER LINK

Roarivores Anyklosaurus Color Version 2 Figure
Now Shipping May 2019
PREORDER LINK

Roarivores Ceratosaurus Color Version 2 Figure
Now Shipping May 2019
PREORDER LINK

Roarivores Metriacanthosaurus Color Version 2 Figure
Now Shipping May 2019
PREORDER LINK

Savage Strike Dilophosaurus
Shipping July 2019
PREORDER LINK

Savage Strike Velociraptor
Shipping July 2019
PREORDER LINK

Savage Strike Velociraptor Blue – New Version
Shipping July 2019
PREORDER LINK

Savage Strike Pachycephalosaurus
Shipping July 2019
PREORDER LINK
Case Pack Preorders
Roarivores Version 2 Figure Case
Shipping July 2019
PREORDER LINK

Savage Strike Mix 3 Figure Case
Shipping July 2019
PREORDER LINK