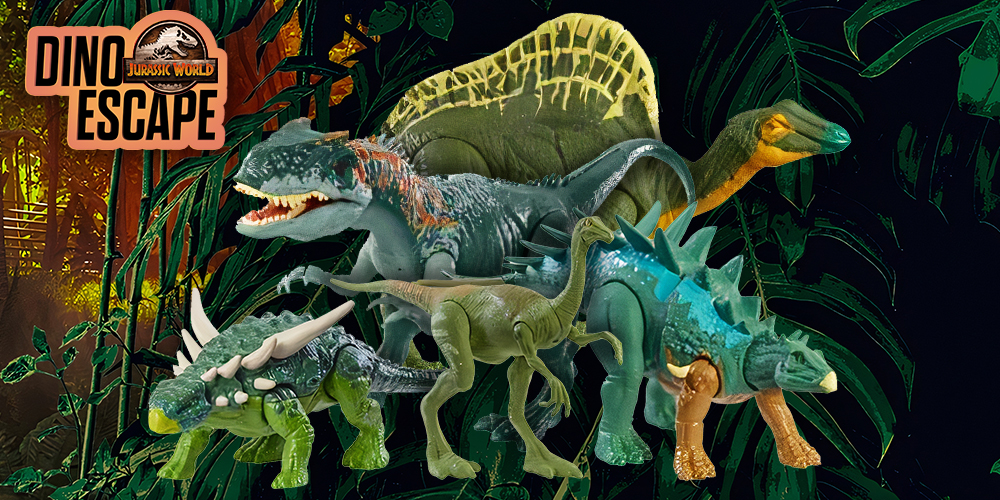 Jurassic World Dominion may not be debuting in cinemas until 2022, but it seems that there is no slowing Mattel as they continue to release more new dinosaurs under their Jurassic World license. Whilst the Dino Escape line we were expecting to debut in 2021 didn't quite get the launch we were expecting, the sublines and items which were intended to be available as a part of the line are still slowly debuting in stores across the world.
Today we have a look at two new additions to those sublines – including new figures in both the Fierce Force and Roar Attack assortments. Do note there will be some spoilers for Camp Cretaceous Season 2 later in this article – so bear that in mind as you read this piece.
Let's not waste any more time – I know you're hungry to dive in and take a look at the latest toy reveals!
Up first is the Fierce Force assortment – the brand new replacement line for the Savage Strike assortment we have all come to know and love. This assortment features two brand new dinosaurs, and four re-releases – although a couple appear to be new moulds. In the repaint category, we have the latest action-feature Dilophosaurus mould repainted in a grey and crimson colour scheme, and also a personal favourite, the Sauropelta, repainted in a light green and a datk blueish-green colour scheme. Both figures aren't much to write home about, but definitely provide some nice distinction from their previous variants.
We then have a Gallimimus released in a dark green and brown colour scheme, in what potentially appears to be a new mould for this animal. Whilst this could be a reuse of the mould created for the Legacy Collection running Gallimimus, we aren't certain on this – as the arms and legs do appear to be slightly different from previous versions. What is definitely new is the brand-new mould for the Velociraptor – this one appearing to be a generic Velociraptor, as opposed to a member of the Raptor Squad. We've seen lots of Raptors at this point so it is hard to feel massively excited by the prospect of another one, but this one does pack in some nice detail.
On the brand-new front we have the Masiakasaurus – and whilst this dinosaur is not particularly accurate to its real-life counterpart, it is interesting to see Mattel's interpretation on it – with a unique jaw design for this particular animal. It is a great and unique addition to the line – but definitely one which is not likely to be popular with fans of the franchise who would like their dinosaurs to be paleontologically accurate. This is accompanied by the Chialingosaurus -a unique Chinese stegosaurian dinosaur which is not too dis-similar to the Kentrosaurus. I have to admit, the idea of getting a smaller herbivores which have physiological similarities to their larger family members is a really exciting context to me – and this one looks great, although the animal doesn't quite capture the mixture of spikes and plates that this particular herbivore has as well as it could. Overall, these aren't awful new figures – but perhaps aren't as authentic as some other figures in Mattel's existing Jurassic World line.
On the Roar Attack front, we have two repaints, three new sculpts of dinosaurs we have received before, and also another brand new Herbivore which is making its first debut in the Jurassic World line. Up first are the repaints. Here, we get the two remaining members of the 'Baryonyx Squad' from Jurassic World Camp Cretaceous Season 2 – including Limbo, and also the Fallen Kingdom style Baryonyx known as Chaos. Chaos's similarity to the FK dino makes this a nice release for fans who missed the original Roarivore release from that film, and both of the Baryonyx included here are great figures who captured their on-screen versions perfectly. It is worth noting that they re-use the new Baryonyx mould first introduced for the Sound Strike Grim – so all three figures should look great displayed together.
Another addition potentially inspired by Camp Cretaceous is the brand-new sculpt for the Ceratosaurus – a Dinosaur which has seen a handful of releases in the line to date. The previous version of this animal is known to have some issues with keeping its balance – so we're hoping that Mattel's new version will address these problems and will bring us the most definitive version of this Carnivore to date. If it's a good mould then we'd bet it will get the more authentic JPIII paintjob in the near future too – although this version isn't far off! Alongside this we also get a brand new mould for the Ankylosaurus – a dinosaur which has already appeared a couple of times within Mattel's line. This Dinosaur does utilise what appears to be a refined mould, and also matches the colours we see on the adult version of Bumpy within the second season of Camp Cretaceous – meaning this could very well be a grown-up figure of everyone's favourite dinosaur!
The next Dinosaur is the Allosaurus – a figure which has already received two different versions in the past. The new sculpt for this animal looks drastically different, however, with a much better proportioned head and a larger looking body overall – creating an animal which feels much more appropriate for the large-sized carnivore it is portraying. Whilst the paint scheme is a little funky here, we'd bet this animal may get the Battle at Big Rock treatment in a future variation! Lastly, but certainly not least, we have a herbivore which has seen increased popularity in the community since it was added to Jurassic World Evolution (although we know it was popular in Operation Genesis, too!) and this design from Mattel appears to draw inspiration from both elements of source material. The colour scheme on Ouranosaurus is nice and has some great contrast, and the sculpt looks good, too – so it is exciting to have a wave of figures which introduce a couple of great new herbivores to our ever growing collections!
That's it for now – but we're hearing whisperings of more Legacy Collection coming soon (did anyone else feel that impact tremor?), so stay tuned to Collect Jurassic for more news on the latest reveals as soon as we have it!