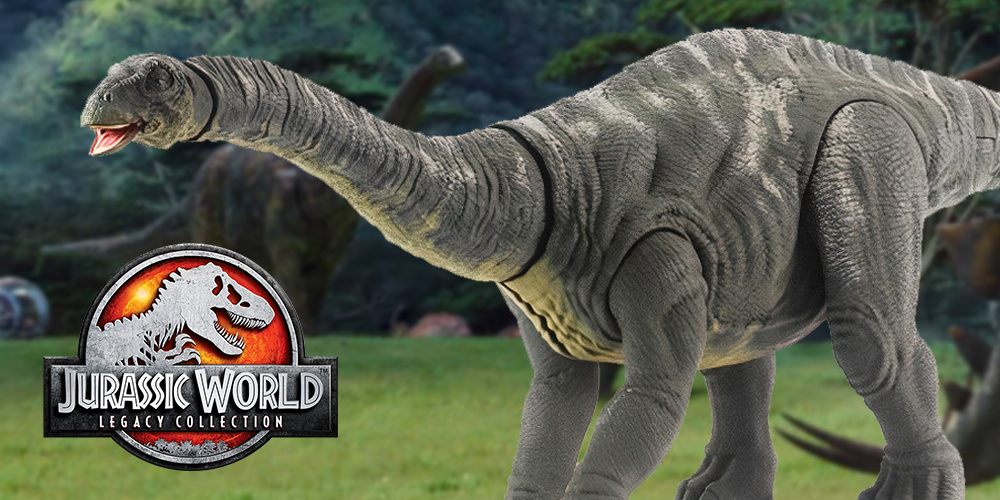 Those of you who are already in-touch with the Jurassic Park and Jurassic World toy communities may have heard rumours recently that an Apatosaurus figure was in the works from our friends at Mattel. As of yesterday, those rumours have become facts – with the figure receiving an official listing on UK toy store Smyths.
Below you'll find the official images and description for this new figure, as well as official images of Apatosaurs and its packaging. Stick around till the end of the article as I'll also break it down and will give you my thoughts on the latest full-scale sauropod to join Mattel's 3/34 inch assortment.
'The Jurassic World Legacy Collection roars into action celebrating classic moments, themes and characters from the blockbuster film franchise! Big-screen action comes alive with the huge Apatosaurus figure inspired by the whole Jurassic World franchise and one of the largest animals to have ever walked on Earth.
This Apatosaurus figure has appeared across the movie franchise and is a fan favourite! This HUGE herbivore figure is 30.5cm tall and more than 112cm long and features theatrical inspired decoration and posable legs.
Retail price for this Dinosaur is 49.99.'
So, a 112cm long Apatosaurus figure is officially landing in stores – with an estimated UK release date looking like the end of March! I have to admit, I am incredibly excited to see Mattel having the confidence to release another large-scale sauropod at this scale. I think many of us felt that the Brachiosaurus was an anomaly of an item – with future releases at a similar scale highly unlikely, so it is very excited to be proven wrong. Whilst the dimensions of this dinosaur perhaps leave a little bit to be desired, there is no doubt in my mind that collectors of all ages will be incredibly happy at having the opportunity to add another lumbering giant from the prehistoric world to their collections.
I hope that this renowned faith and ambition for the Legacy Collection line continues. Not only would another large Sauropod like the Mamenchisaurus be welcome in the collections of many, but there is still plenty of scope to explore other areas of the Jurassic universe as a part of the Legacy Collection. Whether vehicles used by InGen in The Lost World, some of the Jurassic World vehicles present in the park, or even the iconic Ford Explorer, it is safe to say that there is lots of opportunity for the future – so we hope that the anticipation around the Apatosaurus encourages Mattel to continue to give this subline the love it deserves.
What do you think? Has the shock reveal of the Apatosaurus got you excited? What else would you like to see released in the future? Let us know in the comments below, and stay tuned to Collect Jurassic for more news, reviews and more in the near future!