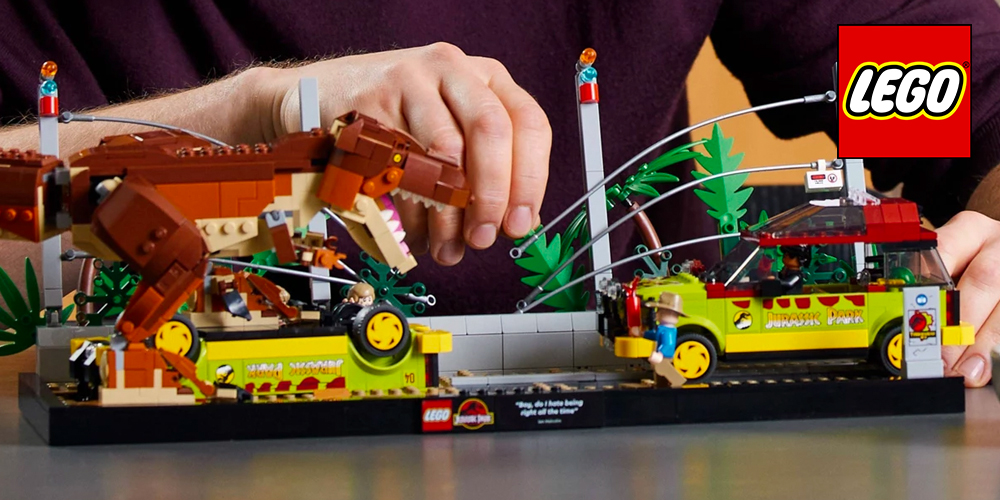 The reveal of the Jurassic World Dominion trailer appears to have opened the flood gates for a whole torrent of brand-new Jurassic Products – including the official reveal of one new Jurassic Park LEGO set (finally a LEGO T-Rex Breakout!), as well as two additional sets which will be based on the upcoming Jurassic World Dominion. Let's jump in and take a closer look!
We have to start with the crowning jewel here – which is a rendition of the Tyrannosaurus Rex breakout from the 1993 film, complete with a brick-built T-Rex, fencing, two Ford Explorers and four minifigures. This set is part of LEGO's new 18+ offering which means that it packs in more detail, and also that it comes in a more shelf-ready display presentation – with a plaque on the front providing additional information about this set. It is hard to put into words how excited I am that this is an official set. Not only do all of the core details here look spot-on, but you can tell that a lot of love went into getting this set right – with elements like the T-Rex enclosure signage and the voltage sign on the fence also packed in here. Whoever designed this at LEGO is clearly a big fan of the Jurassic franchise, and that passion and enthusiasm shines through in this design. I genuinely think this is the best Jurassic set we have ever received by a long distance – and I cannot wait to add it to my collection when it releases. This set will be set number 76956 and will retail for around $99.99 – with a release on April the 17th. Available for preorder at Target and LEGO.com.
The Dino Goodness doesn't end there, however, as we also have two Dominion sets. The first set is 76950 Triceratops Pickup Truck – an interesting set which includes a pickup truck, a dark green quad-bike and also a Triceratops. The Triceratops is a brand-new colour scheme we haven't seen before – featuring a dark brown and tan colour scheme with some crimson highlights which really help to make this Trike 'pop'. We also get minifigures of Claire, Franklin and a couple of other characters who we have yet to see here – creating a fun looking play-set which gives a great flavour of 'dinosaurs in the wild'. This set will retail for around $39.99 when it releases later this year. Available for at Walmart and LEGO.com.
We also have set 76951, also retailing for $39.99, which is Pyroraptor + Dilophosaurus – giving us two popular animals in one set. The bulk build of the set is a tan colored Biosyn Truck, which comes with a small containment trailer and also an additional radar dish as some side builds to add some extra value here. The stars of the show are the Dilophosaurus and the Pyroraptor, although the Dilophosaurus is unfortunately very similar to the prior-released version in the Legends of Isla Nublar line. The Pyroraptor appears to be another static mould here, and whilst it looks decent enough, we're not sure this is the best rendition of a dinosaur to appear in a LEGO line to date. With that said, we are grateful for a new animal, and love how the colour scheme is realized here. This set packs both Ian Malcolm and Ellie Sattler into one set, and also includes a random guard for some dino fodder. Available for preorder at Walmart and LEGO.com.
Overall, it looks like the LEGO assortments releasing throughout 2022 are set to be very exciting. Clearly, we are getting a mixture of classic and Dominion-themed sets, and whilst we are doubtful we will get more classic Jurassic, we are at least happy to see that an original Jurassic Park set got the 18+ treatment. We're hearing that more sets will be revealed in the near future – so keep an eye on Collect Jurassic for more LEGO news as soon as it drops!