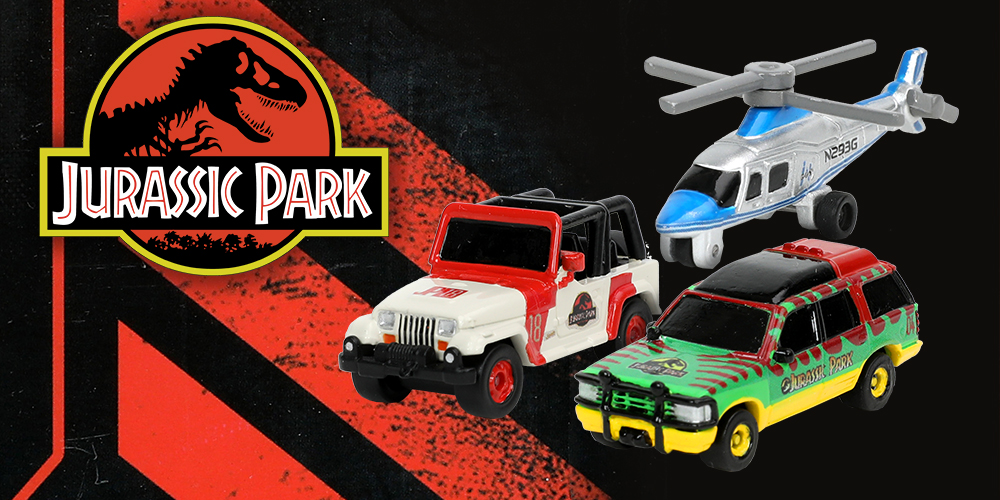 Collectors, start your engines! Jada Toys, who have been creating vehicle-based toys and collectibles for the Jurassic franchise since 2015's Jurassic World, are back with a very exciting (and very small) new release. Jurassic Park is joining the ranks of their "Nano Hollywood Rides" assortment of micro-sized cars based on various film properties — a perfect fit with Jurassic's iconic vehicle designs. The classic Jeep is of course included, as is the InGen Helicopter from the beginning and end of the film. We haven't seen too many toys of the chopper, so it's a nice surprise to see it included here. But the real star of the show is Ford Explorer tour vehicle, a Jurassic Park mainstay that is seriously underrepresented in toy form. Fortunately Jada Toys has been listening to the fans and are at last taking the Explorer out for a spin, completing this excellent 3-pack of Jurassic Park miniatures.
If you're itching to get these in your garage, you won't have to wait long! The Nano Hollywood Rides Jurassic Park 3-pack will be hitting US retailers by March — that's next month! Preorders are also currently available on Entertainment Earth. As for an international release, those details are forthcoming but it's safe to say it should be coming to territories that previously carried Jada's Nano assortment in the near future.
As for what's next for Jada Toys and Jurassic, an updated version of their 2015 R/C Jurassic Park Jeep is also hitting Target stores here in the US. There's undoubtedly more Jurassic vehicle toys on the way with Dominion, the third and final film in the Jurassic World franchise, releasing next year. Fingers crossed that means more versions of the Ford Explorer, we'd love to see more collectible die-cast replicas and R/C toys of the movie's unsung vehicular hero.
Stay tuned to Collect Jurassic here and on social media (Instagram, Facebook & Twitter) for more updates on the The Nano Hollywood Rides Jurassic Park 3-pack and other upcoming Jurassic Park and Jurassic World collectibles. Plus be sure to subscribe to our YouTube channel for a detailed review of these vehicles coming soon!